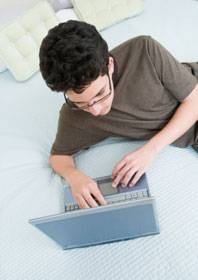 At first glance, the pros and cons of an online education appear as simple matters of lifestyle and accessibility. But do online students trade quality for convenience? While statistics show that online students are enjoying academic success, course completion rates are lagging. Support from the academic community remains limp as well, even as online programs continue to grow.
There's no doubt that more students are pursuing their college studies online. A 2012 survey from the Sloan Consortium shows that just shy of one-third of higher education students (more than 6.7 million students) take at least one course online, and according to the Babson Survey Research Group, the number of college students who are enrolled in at least one online college class increased for the ninth straight year.
Where do you find online class offerings? Fortunately, these are becoming far easier to find. Most renowned colleges and universities are offering new online classes through their school sites, or you can do a simple online search to find out which schools offer general education requirements, prerequisites, and your entire degree plan. Make sure the course work is accredited so credits count toward a degree. In addition, eager students can comb through an online directory of colleges to find courses in their field of study.
Pros: flexibility, accessibility
For many students, online course work makes it possible to pursue an education that might otherwise be out of reach:
Flexible scheduling: need to work, or care for the kids? Log in to school whenever your schedule permits.
Telecommuting: if you don't live near a college or university, online classes are as close as your Internet connection.
Cost savings: tuition for online courses is typically lower than brick-and-mortar classes. Plus, students mostly eliminate costs like gas, parking, and campus housing and food.
Flexible pacing: online students can move at a quicker or slower pace than the rest of the class.
Convenience: let's face it—sometimes it's nice to take a class at home in your pajamas!
Cons: relative isolation
Students need to be self-disciplined and self-reliant to succeed at online education:
Limited instructor interaction: you can't raise your hand during class and you can't drop by to see the professor during office hours.
Limited social interaction: you may have access to online forums and discussion groups, but you won't be meeting other students face to face. This eliminates opportunities for networking and group study. Plus, many view getting involved on campus as critical to the college experience.
Feedback bottlenecks: when you have a question, you're trapped waiting for answers via e-mail or student forums.
Technological challenges: if you're not tech-savvy or you don't have a reliable computer and Internet setup, the technical aspects of participation may prove frustrating.
Mandatory self-discipline: the same flexibility that lets you work around your scheduling needs and pacing preferences means there's nobody to keep you from falling behind with your course work.
What about quality?
According to a 2009 study from the Department of Education, students who took all or part of their classwork online performed better, on average, than classroom students taking the same course work; students who mix online learning with traditional course work do even better. Sloan Consortium figures show that 77% of academic leaders rate online learning outcomes as equal or superior to face-to-face education.
Then there's this from a May 2012 Ithaka S+R Research Report: "We find that learning outcomes are essentially the same—that students in the hybrid format 'pay no price' for this mode of instruction in terms of pass rates, final exam scores, and performance on a standardized assessment of statistical literacy."
Yet public confidence in online education remains lukewarm. A 2011 report from the Pew Research Center shows that just 29% of the public believe online courses offer an equal value to classroom course work. However, 39% of adults who have taken a class online say the format's educational value is equal to classroom courses.
College administrators and faculty remain on the fence. Only 30.2% of chief academic officers believe their faculty members accept the value and legitimacy of online education (a rate that's dropped since 2004, reports the Sloan Consortium). The same report noted that most academic officers believe low online student retention rates cast doubt on the future of online education.
What students make of it
With documented quality and growing support already under its belt, online education only needs the engagement and support of its students. In an interview with BostInno, Babson College President Len Schlesinger says that while news is hot about online education, it's all focused on the 200,000 who signed up: "No one is writing about the 160,000 who aren't finishing it."
Indeed, there are many who don't succeed in the online college arena. But for students who pursue these courses as diligently as they would in a physical classroom, the advantages can be powerful for furthering their career prospects.