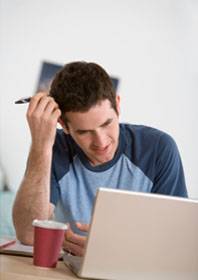 Once you've figured out that long list of schools that you want to attend next year you'll probably be overwhelmed by the sheer number you have. There are thousands of schools to choose from and shortening your list will be difficult if you don't know where to start narrowing it down. Here are some tips for shortening that list without draining your wallet with application fees.
The first thing to do with narrowing down the list is taking one last look at all of the requirements you need to meet in order to be accepted to a school. Each school has different admission procedure and some schools have higher standards when it comes to accepting new students. Ensuring that for each school on your list you meet—or some close to—the GPA, SAT or ACT, and pre-requisite requirements will shorten your search. If your GPA doesn't quite meet the standards but you have high test scores, you can still apply, as some schools weigh heavily on those standardized tests; however if you come short on both, you may want instead focus on the ones for which you meet the basic requirements.
Colleges don't just look at test scores, they also read your essays. Your best bet is to work hard on the essay and ensure that you have written a strong piece; show how committed you would be to that school so they understand you are serious about your higher education. Colleges look for students that are motivated and determined to make an impact at their institution, whether that is through your major, or by just getting involved with activities on campus, they need to know you are interested in them so they will see you as the right fit for their school. Make sure to check your list of schools and what they require for your essay; don't submit the same piece for every school, especially if the essay prompts differ.
Take another look at your list: if you have schools that you haven't visited, go to their websites, take a look at the campus map, and find links for virtual tours. The virtual tour could show you classes and dorm buildings that you don't feel are suited for you. Without seeing a school, you won't be able to decide if you really want to attend; nothing beats a real campus tour, but if it is impossible for you to visit before you apply look, over the website and find all of the information you need about the campus because that school may not be what you thought it would be.
Everyone has different expectations for how they want their college experience to be. When making your list of schools, you need to make sure you will feel comfortable at that institution. Getting a feel for the requirements for attending as well as for the campus will help strengthen the essay you write in order to prove you genuinely feel you are right for that school. The list may be long, but just taking more time to examine every school and seeing what they all have to offer can narrow it down. Some schools may not turn out to be what you expected and continuing your research is the best way to find the right schools for you before you apply.