A few years ago, I found myself stuck. I was working an uninspiring 9-to-5 desk job and had suffered a stormy year in my personal life. I felt helpless and uninspired until I made the decision to focus on my longtime dream of becoming an English professor. I spent months researching programs, chasing reference letters, and studying for subject tests to support my applications for Ph.D. programs. And then I waited.
A few months later, the first rejection came. Then the others came, one after another after another. I refreshed my laptop screen repeatedly, heart sinking with each e-mail that came in. I didn't even have to read past the first line—"We regret to inform you"—to know they were all rejections.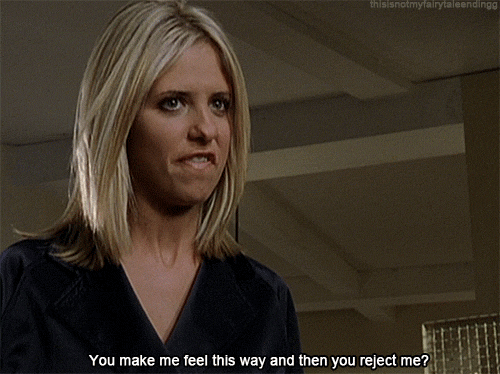 20th Century Fox via giphy.com
Rejection from graduate school feels incredibly defeating. You've worked hard to find exactly what you want in a career, expended massive amounts of energy distilling your experiences and ideas into neat application bullet points, and spent months thinking about which schools would perfectly fit your interests. And with what feels like a quick, cursory shake of the head, the admission committee dismissed you.
If you've been rejected from graduate school . . .
First things first: know that you are among the majority. Graduate programs are incredibly selective, and you're up against a talented and successful pool of applicants—not to mention the fact that the final decision may be based on funding, statistics, or other factors entirely out of your control. Feel a sense of pride just for making it through the arduous application process, as well as in the fact that you refused to settle for applying to schools that were subpar. Don't jump to conclusions about next steps; take a few weeks to honestly assess how you feel.
The evolution of my feelings surprised me. I felt a wave of relief when I got my first rejection. Then the question resurfaced: why relief? Slowly, I began to see my doctoral aspirations for what they actually were: a grasp at control during a time of personal stagnation. I had been more interested in the possibility of change than in the research process, the financial commitment, or the incredible amount of time and effort required to earn a Ph.D. However, reawakening my ambition gave me the confidence I needed to seek out a part-time master's program and find work in communications and editing. Rejection gave me a second chance at finding my own happy medium.
Granted, this type of realization is not typical. I'm not suggesting that graduate school is a bad idea, or that you should give up if you've been rejected. However, it's an interesting lesson in how we can misjudge ourselves and how perceived obstacles can actually spark realization and growth. Even if you are sure that graduate school is right for you, rejection can ultimately be an opportunity. Consider your application's weaknesses from an admission committee's point of view or seek advice from enrolled students or faculty members. You may need to hone your research ideas further, take extra preparatory classes, or gain more experience in your field before being admitted, and an extra year will offer you unexpected opportunities to do so. A "no" is simply an inconvenience, not a final answer.
Successful people are flexible
And successful people do not move forward based on rigid expectations; they take what they have, find the things they can work with, and move forward from there. When they don't get what they want, they come at the problem from a different angle. This is not your time to feel defeated. It is your time to decide whether or not you will be truly successful—whether you will let rejection happen to you or make it work for you.