Hey there, high school seniors! How's life treating you? Don't you just love getting up every morning and facing another day of classes? Aren't you feeling more enthusiastic and motivated than you ever have in your whole life? What is that? No? Oh.
Yeah, I didn't think so.
It's late April, and that can only mean one thing: the annual senioritis epidemic is in full swing, and no one is immune (though if you have somehow managed to stave off this evil virus, hats off to you!). But you're so very close to graduation—this is no time to throw in the towel! Don't you want to leave high school with a roar rather than a whimper? Here are 10 ways you can kick senioritis in its indolent little bum.
1. Set some goals
Think about how you'd like to end your senior year, both academically and socially. Can you improve your GPA? Is there a class you've been slacking off in? Are there any people you'd regret not making amends with? Any teachers you want to thank? Make a list of goals, no matter how small, and start working on them now.
United Artists via tumblr.com
2. Make a bucket list
The sand in your high school hour glass is quickly running out. Create a "senior year bucket list" to make sure you get in every last ounce of fun that you can. Wear a crazy outfit to school! Get up the nerve to talk to you crush! Choreograph an epic flash mob in the cafeteria! Streak across the football field!
Wait, no, don't do that last one. For reals. But everything else: do it while you can!
DreamWorks via tumblr.com
3. Think about your final transcript
You may have already been accepted to college, but that doesn't mean your final transcript isn't important. Many colleges and universities require a review of students' final transcripts. Why would you jeopardize all your hard work by letting your grades slip?
Columbia Pictures via tumblr.com
4. Take care of yourself
You're juggling classes, extracurricular activities, a busy social life, family obligations, and maybe even a job or internship. All of that can add up to too much junk food, too little sleep—and one worn down immune system. And the last thing you need right now is to get sick. Be sure to take care of yourself by eating right, getting a little exercise every now and then, and maybe sacrificing a party or two for the sake of catching some shut-eye.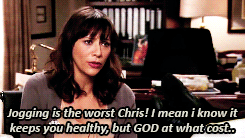 NBC via giphy.com
5. Don't be afraid to ask for help
Your parents, teachers, and other friends and family are there for you. If things are getting overwhelming, don't be afraid to ask for help. Struggling in a certain class? Ask your teacher for some guidance. Having trouble with a personal relationship? Believe it or not, your parents just might have some good advice. Don't put any undue pressure on yourself—ask for a hand if you need it!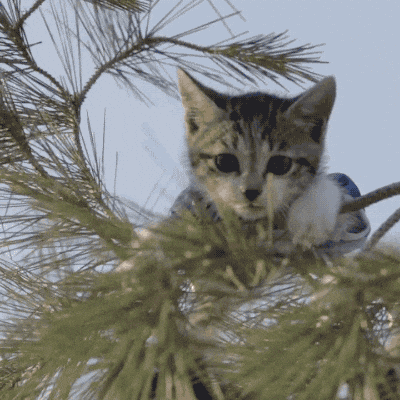 Via GIPHY
6. Talk it out
Once the stress of senioritis really gets underway, you may feel like you're about to explode. Sometimes something as simple as a good vent session with a friend or parent can help you relax. Even journaling to get all of your thoughts out of head and onto paper can alleviate some of the pressure. "Serenity now!" doesn't work.
NBC via tumblr.com
7. Get a J.O.B.
This may sound counterintuitive, since you've already got so much going on, but getting a job or internship can help take your mind off the stress of your scholarly pursuits. And a paid position is a great way to put away some skrilla for college.
HBO via reactiongifs.com
8. Give yourself incentives
Can't muster up the motivation to study for your calculus test? Would you rather listen to a symphony of screaming toddlers than write that 10-page paper on Macbeth that's due on Friday? Give yourself some little incentives to help get you over those hurdles. Like, "If I study hard and get an A on this chemistry quiz, I'll get a pedicure on Saturday," or, "If I make it through AP government without falling asleep today, I can watch an extra hour of Netflix tonight."
NBC via tumblr.com
9. Think about your future
Visualizing your future may be one of the best ways to combat senioritis. Be proactive by doing things like meeting people who work in your dream career, strolling through neighborhoods where you could see yourself living someday, or asking your parents if they'll take you to test drive a ridiculously expensive car. Seeing all those great things up close can be incredibly motivating.
NBC via utahvalley360.com
10. Keep your eyes on the prize!
Graduation is this close. Don't you want to cross the stage with your head held high?
CBS via tumblr.com
Keep up the good work, seniors! You're almost there!