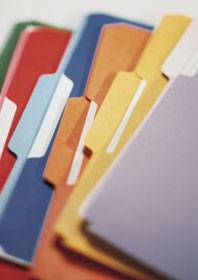 When you start filling out your college applications, things can get a bit hectic. The more colleges you want to apply to means more applications on your plate, potentially a big organizational disaster! The best way to keep all of your applications together to avoid any confusion is to keep everything neat and tidy.
Most of your applications will require the same documents for their schools: SAT/ACT scores, essays, letters of recommendation, résumés, and transcripts. If you have permission to view your letter of recommendation, keep copies of your letters as well as printed copies of the essay(s) in your possession, depending on what the schools require. Your scores and transcripts get sent through your guidance counselor, but you should always keep a copy on hand in case you need them for other reasons (e.g., scholarship applications).
The best way to keep yourself organized is to make separate piles for each school you are applying to, or, since many students apply online, make separate folders on your computer. Make a checklist for each school; here, you can cross off what items you already have together for each school and see if you have or have not had your guidance counselor send out your transcripts. When you are applying to multiple schools, it is easy to forget certain application requirements and you don't want to lose out on an opportunity to get in over a simple mistake.
Keeping a checklist with each application will ensure that you have everything together before you submit your full application to the school. This is especially important if you need to provide additional items with your application—such as an online portfolio for acceptance into an art major. Before you submit anything, look over each pile/folder you've made and double check the application to make sure you've filled out everything correctly and you have all of the materials necessary. Jumbling everything together will only lead to stress and an incomplete application. Keeping track of your documents—and deadlines, for that matter—will get you that much closer to receiving that acceptance letter!