Yup, choosing the winning mascots was no easier this time around. But only the strongest mascots—and those with the flyest dance moves, obvi—can survive.
Related: First Round Results: The Sweet 16
Related: Third Round Results: The Final 4
Related: Fourth Round Results: The Championship
Related: Fifth Round Results: The Winner!
The bracket (click to enlarge)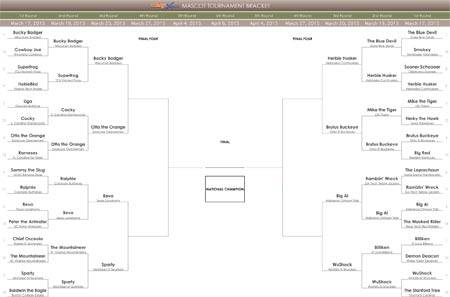 The matchups
Bucky Badger vs. Superfrog
Texas Christian University vs. University of Wisconsin Badgers
Wild badgers are nothing like this. They're vicious, and they would have no problem eating a Horned Toad like Superfrog. Even as far as mascots go, Bucky is like his wild brethren: feisty. Superfrog is just too . . . nice. Bucky Badger has far more swagger.
Winner: Bucky Badger (University of Wisconsin Badgers)
Cocky vs. Otto the Orange
University of South Carolina vs. Syracuse University
Cocky might be the most popular chicken since KFC—excuse us, most popular gamecock. He has thousands of fans, and not just because of his righteous drumming skills. But when it comes to on-the-field antics, Otto gets us going like a jolt of pure Vitamin C. The chicken dance can only take you so far, Cocky.
Winner: Otto the Orange (Syracuse University Orangemen)
Ralphie vs. Bevo
University of Colorado vs. University of Texas at Austin
Home, home on the range, where the steer and the buffalo FIGHT TO THE DEATH. Okay, not really. These domesticated creatures would probably just stare at each other, so we'll do their fighting for them: although Ralphie gives Bevo a literal run for his money, in terms of inspiring fan love and loyalty, Bevo takes it.
Winner: Bevo
The Mountaineer vs. Sparty
West Virginia University vs. Michigan State University
We love The Mountaineer. We want to take him home to meet our parents. (Mountaineer, if you're reading this, call us.) And he works his buckskin-covered butt off for WVU. But there's just something about Sparty. Man, can that soldier work a crowd—and, man, do they turn out to see him.
Winner: Sparty (Michigan State University Spartans)
The Blue Devil vs. Herbie Husker
Duke University vs. University of Nebraska
We thought that Blue Devil would be so slick, he'd beguile his way to the finals. His bajillion (technical term) fans would definitely want him there. But it looks like Herbie's got something a little holier on his side, because he beat the Prince of Darkness this time around with his courtside energy and impressive shooting skills.
Winner: Herbie Husker (University of Nebraska Cornhuskers)
Mike the Tiger vs. Brutus Buckeye
Louisiana State University vs. The Ohio State University
Not a lot of mascots can throw the opposition off just by flashing their (sharp, toothy) grin. But as magnificent as a Mike is, let's be honest: he's pretty chill. Brutus, on the other hand, has survived brutal attacks on the job! Not to mention, the crowd goes nuts for him. Sorry not sorry about the terrible "nuts" pun.
Winner: Brutus Buckeye (The Ohio State University Buckeyes)
Ramblin' Wreck vs. Big Al
Georgia Tech vs. University of Alabama
There are a lot of traditions and rules dictating what happens with the Ramblin' Wreck: where it goes, who gets to drive it, who gets to drive in it, who even gets to touch it. It's definitely an icon. But can it impact the youth of America like Big Al?! Probably not, especially if they're not even allowed to touch it. Big Al the philanthropist takes it.
Winner: Big Al (University of Alabama Crimson Tide)
Billiken vs. WuShock
Saint Louis University vs. Wichita State University
The Billiken's good luck troll creature magic appears to have run out. His courtside antics can't compare to a crazed bunch of wheat. (Who knew?) Back to the mystical land from whence you came, Billiken. WuShock is chaffing his way to victory.
Winner: WuShock (Wichita State University Shockers)