There is an interesting debate going on in college athletics right now, and it's all about money. I was sent an article the other day regarding this issue and was shocked to find that there are many layers to this discussion.
Just to illustrate the depth of the topic and how current it is, I typed in "college athle" into Google and this is what popped up: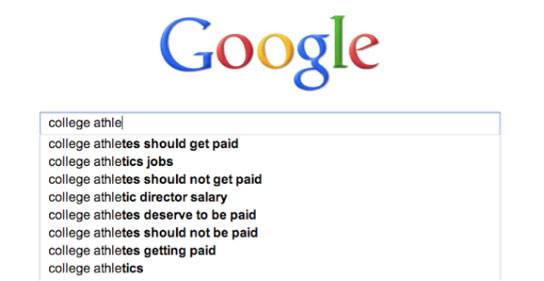 Who would have thought?!
Needless to say, I'm totally hooked after finding there were so many facets to this issue. So for my next few blogs, I will dive into the areas where money is permeating into the college athletic industry at the moment:
Both sides of the coin: should players be paid to play for their school? (today's topic)
Athletes being (illegally) paid by recruiters.
Coaches' salaries versus that of professors, school officials, and players.
Let's debate
Reasons for:
Money is a great incentive to play. If athletes have a reason to play hard and win, it's better for the school in the long run.
Athletes do the work to bring money into their school; this can particularly be seen with schools like Boston University, University of Texas, etc. that charge for sporting event tickets, food, souvenirs, and more. Basically, larger Division I schools are making money off of their players.
Sports television stations, newspapers, and websites (just to name a few media outlets) make money off of televised games, writing about players, providing stats and opinions, and more through advertising. With no games, no players, no talent to talk about, there's no money to be made.
Coaches are already getting paid millions--why not the players? The New York Times put out an article in December 2011 that said $53.4 million dollars was the combined total of all the salaries of the highest-paid college football coaches. How much of that was given to Division I college football players? Zero!
Reasons against:
Paying players will take away from the school as a whole and places more emphasis on athletics and athletes than the rest of the school's community.
This extra money could be used elsewhere on campus and help build better facilities and give better opportunities to students.
It takes away from playing "for the love of the sport" by placing a monetary value on how well a player plays.
What about the other students? Paid athletes in a school system can create anger and tension from fellow classmates who do not get paid for their own efforts in academics, clubs, organizations, etc.
Don't the majority of athletes already get some sort of scholarship? Now we are just adding money on top of money.
Certain sports/players could be paid more based on how much money they bring the school. From what I've read basketball and football would be the sports that would be paid the most, if not the only sports that would pay its athletes.
College in the end is about an education, not how much money you can make while you're there.
Where do you fall on this debate?
I think there are valid points to both sides, but what it comes down to (for me) is that the college experience shouldn't be tainted with money. There are so many talented individuals who aren't on the field who don't even receive scholarships to go to school; this money is much better spent elsewhere instead of on the same people over and over again who already have their college education, books, and room and board paid for.
What is your position? Should college athletes be given a salary for playing?