Last Updated: Apr 17, 2018
A word of advice to anyone scheduling college tours: check the forecast.
Unfortunately my family and I learned the hard way that under no circumstance should anyone go on a college tour in the rain, or even if there is a heavy chance of rain for that particular day. Just don't do it.
Aside from the weather, my college tour of Saint Leo University was nice, to say the least.
I live in St. Petersburg Florida, and it took approximately one hour and 15 minutes to get to the school in the heavy rain and 8 o'clock traffic. Full-time students at Saint Leo University are required to live on campus unless they have pre-approved documentation to live off campus. Exceptions include students who live at home with a parent or guardian and can provide proof, as well as those who are married, a veteran, a non-traditional student, or a senior college student who has attained over 90 credit hours. For students with medical needs, Saint Leo has designated dorm rooms provided, if necessary.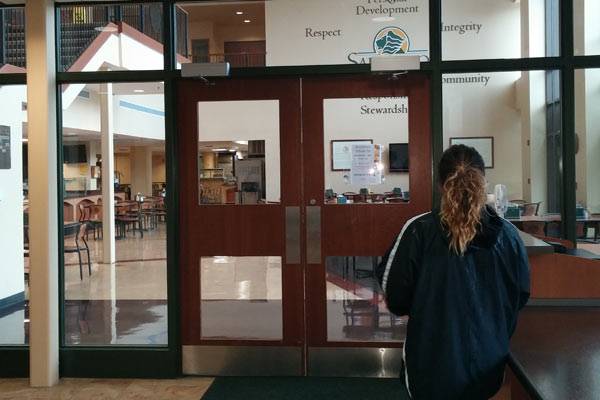 A tour guide at Saint Leo shows students the dining hall. Photo by Vivica Roberson
Depending on the student, the location of Saint Leo University could be a blessing or a curse. Saint Leo seems like a small town, so for someone looking for a school with a city feel, it may not be an ideal school. However, for someone who is looking for a school that will allow them to focus heavily on their education, build camaraderie with their peers, and live on a beautiful campus, Saint Leo is the place to be.
Although the rain hindered my ability to fully enjoy the campus, one thing was clear: Saint Leo University has one of the most beautiful campuses that I have ever seen.
An inside view of the dining hall at Saint Leo. Photo by Vivica Roberson
There are also several student advantages that attracted me to the school. First, all freshmen have the option of receiving a laptop or an iPad. If a student decides to live on campus all four years and graduates, they are able to keep the electronic device they chose as a freshman. In order for a student to receive an iPad, a student must prove that they have a working laptop. If a student does not have a laptop, he or she must take the laptop instead of the iPad. However, a benefit of receiving a laptop is it converts into a tablet as a 2-in-1 device. In addition, Saint Leo University students are offered a free service that fixes broken devices or technological devices in need of repair.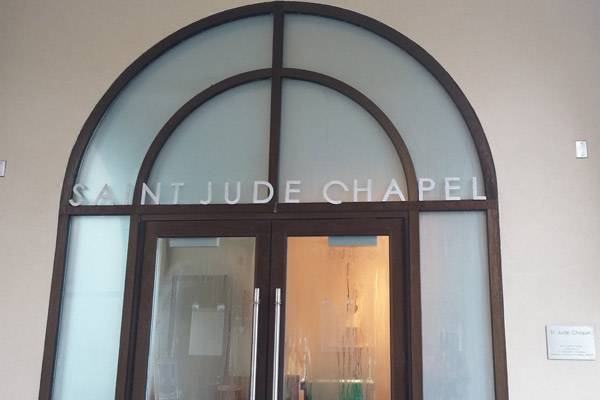 Although participating in religious activities is not required, Saint Leo regularly has services in Saint Jude Chapel. Photo by Vivica Roberson
The University also offers free Wi-Fi; a small fridge and microwave in every dorm room; unlimited usage of washing machines and dryers; free printing; free usage of game room; a relaxation room; and free meals on occasion in the dining area. Saint Leo also has a learning research center available for students if they need tutoring in a specific subject area.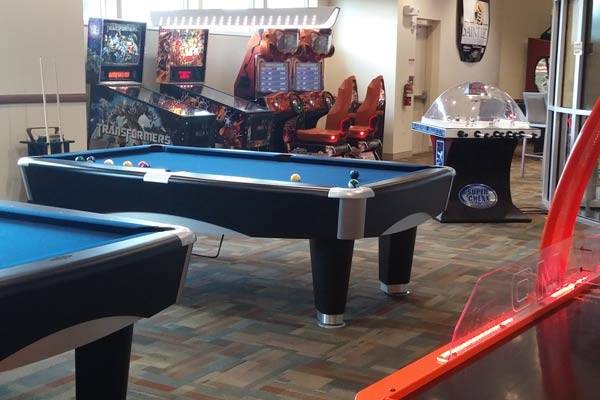 The game room at Saint Leo University. Photo by Vivica Roberson
In addition, Saint Leo University has a Health and Wellness Center for students 24 hours a day, seven days a week. At the Wellness Center, students can be treated for minor medical problems, receive over-the-counter medicine, fill some prescriptions, and speak with a psychologist if needed.
Class sizes at Saint Leo seem to be small, 30 students or less. The classroom I visited in the business building was set up for engaging, hands-on learning. On all four walls of one classroom there were smart boards, so no matter where a student was sitting, they would be able to see what the teacher was writing.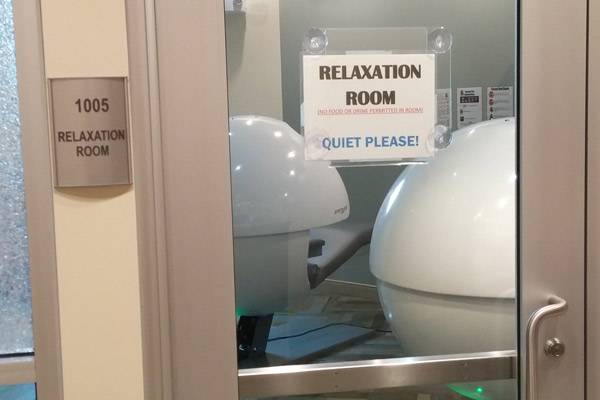 The perfect place to nap: the relaxation room is equipped with energy pods for students to nap before, between, or after class. Photo by Vivica Roberson
All first-year students live in communal-style dorms, meaning students share a room with one other student and shower in a community bathroom shared among students on the same floor. Rest assured, however, Saint Leo's communal bathrooms are cleaned regularly. In addition, once a student becomes an upperclassman, they have the opportunity to change their living arrangements.
A worry I had at first glance and during the drive to Saint Leo was access to outside entertainment. In order to reach exciting venues, it seems like a student living on campus would have to drive long distance. While a student may have to drive 15 to 30 minutes to get to shopping centers such as the Shops at Wiregrass or The Grove at Wesley Chapel, Saint Leo is a reasonable distance to nearly everywhere. Within an hour's drive students have access to grocery shopping, luxury shopping, bowling alleys, movie theaters, churches, restaurants, the Tampa airport, Busch Gardens, the Tampa Bay Rays stadium, and so much more.
Besides outside entertainment, Saint Leo has over 75 clubs and organizations on campus, as well as study abroad opportunities.
There is no application fee, and although Saint Leo has a rolling admissions process, my tour guide suggested having the application finished and submitted before Thanksgiving. In order to apply, students need to provide their official transcript, a letter of recommendation, and SAT or ACT scores.
Simply researching a school or reading a review online is not enough to decide whether a school is or is not for you. Be sure to schedule a college tour, and before you go, check the weather!