For those of you fortunate (or unfortunate, depending on your outlook) enough to live in the path of Winter Storm Juno, the next few days should prove to be something of an adventure. With more than two feet of snow expected to drop in parts of the Northeast, it's almost guaranteed that many of you are about to hear the three most magical words known to man: school is canceled!
If you live in one of the chillier parts of the country, you know that snow days are the one thing that help compensate for all the days you have to trudge to class in sub-freezeing temperatures while your friends in places like Phoenix and Miami are Instagramming pool-side selfies. When you're given the gift of a snow day, you can revel in the fact that all those kids in sunnier climes are toughing it out in class while you're snuggled up on your couch.
Bring on the blizzard!
1. The night before the storm, you start binge-watching the Weather Channel like it's Pretty Little Liars.

Fox 2000 Pictures via dailyedge.ie
2. If you're lucky, you'll get a "school is canceled" text/e-mail/Facebook post/etc. from your school that night. Nothin' but smooth sailing and sleeping in for you!


Walt Disney Pictures via pandawhale.com
3. If you don't get the green light, you reluctantly set your alarm clock . . . but the excitement of a possible snow day makes the time creep by and keeps you wide awake.

Via buzzfeed.com
4. First thing in the morning, you run to your window to see how high the snow has piled up.

Via wifflegif.com
5. There's gotta' be, like, six feet of snow out there. There's no way there's school today. Right?

Lee Mendelson Film Productions via rebloggy.com
6. Doubt starts to get the best of you as you check your phone and computer or turn on the local news in hopes of seeing the name of your school scroll across the bottom of the screen. The suspense is torture.


Warner Bros. via kanyetothe.com
7. And then you get the news: SNOW DAY!!!

DreamWorks via buzzfeed.com
8. First things first: you crawl back in bed and start texting your friends to share your excitement and find out who's willing to hike through the snow to hang out at your house ('cause you're certainly not going out in it!).

Walt Disney Pictures via hellogiggles.com
9. After lazing around for an hour or two and watching the white stuff fall outside your window, you manage to put on something other than pajamas. You should probably try to accomplish something today. But you only make it as far as the fridge. And then you eat allllll the foods while watching all the amazingly trashy daytime television you normally miss because of school.

20th Century Fox Films via buzzfeed.com
10. After lunch, the one friend who was brave enough to trek through the blizzard to keep you company finally arrives. Time to bundle up and have a snowball fight, because, come on, you're never too old for a snowball fight!

New Line Cinema via sodahead.com
11. But now you can't feel your fingers or toes. And somehow, the day has slipped by and it's already getting dark outside. Time for some hot cocoa.

Warner Bros. Television via whatstrending.com
12. The only thing better than a snow day is two snow days. So it's back to binge-watching the Weather Channel while you half-heartedly study for the history test you're supposed to have tomorrow. Come on, Old Man Winter!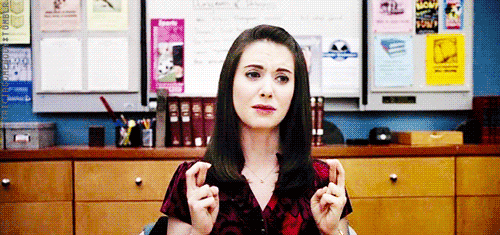 NBC via degrassi.wikia.com
Did you get a snow day? How are you going to spend it? Let us know in the comments!