You might notice a bunch of new names and faces around CollegeXpress. That's because we have more than 100 new high school and college students writing for us for the 2015–2016 school year! We asked many of them to describe their personal college search journey: what they did (or are doing) to find the right college. This is our first finished blog on the matter, and it's an awesome inside look at one young woman's college search and selection process.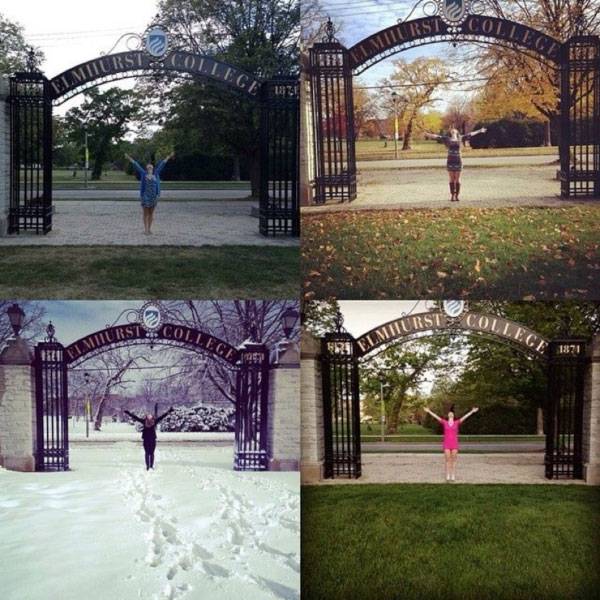 The author exalting four seasons of campus perfection. Photo credit: @kuhhrysten (Instagram)

My mom always says, "Go with your gut." When I was younger, it applied to right and wrong. But as I got older it had more to do with the big life decisions: what I was going to major in, what kind of school I wanted to attend, what people I was going to associate myself with. And when I chose the perfect college for me, Elmhurst College, I completely went with my gut.
We actually heard about the school unexpectedly, when a close family friend who had attended Elmhurst for some time (he was a transfer student) suggested we visit. My options had been limited to in-state schools (money doesn't grow on trees, people!), and I thought I had exhausted my list of possible colleges thus far. But my mother and I drove 45 minutes south to what ended up being the school of my dreams (I just didn't know it yet).
Being the sassy, petulant, soon-to-be high school senior that I was, I was kind of sick of the college search, the endless tours, the same questions, the scholarship essays, and the applications. In fact, at the time, I actually didn't really want to visit. But before I knew it, I was in the car with my mom, headed to toward Elmhurst, Illinois.
Fast forward about an hour, and we were standing in the visitor parking lot. And I just knew. My gut knew. Had I seen the grounds, heard the spiel, taken the time to sit on a bench and picture myself there? Not yet. But my gut was telling me this was it.
Everything about that day just confirmed I found what I already knew I wanted. From the size of the school (bigger than my high school but small enough that I wouldn't just be a face in a lecture hall) to the aesthetic of the campus (an arboretum campus means beautiful trees and foliage in every season), I could see myself learning there, challenging myself there, having fun there, even just being alone there.
When the day was over, my heart was set. I knew that Elmhurst was where I wanted to attend. It helped that a few months after applying, I was accepted and offered the most scholarship money out of all the colleges I applied to.
What makes me the happiest to this day is the fact that when I visited as a high school senior, I had no idea of what great things would happen to me here, but I knew it had so much potential. When you have something in your life that's going smoothly, there's always the small fear that it will change or just come to an end. I was so in love with Elmhurst that every time I visited thereafter—first to sit in on some classes, then to interview for an event-planning job (I got it!), and then to pick my own classes—I was worried that something would somehow break the spell and change the way I felt about the college. I had never felt such a sense of belonging before, and it was terrifying to think of that somehow going away. But that never happened. I can honestly and proudly say that everything I have experienced at this college has not just confirmed but strengthened my belief that I was meant to come here.