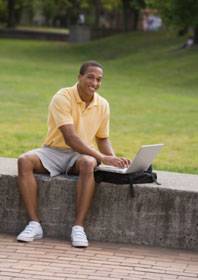 From deciding whether or not to apply early to figuring out what to write about in your personal essay, the college application process is filled with choices, and none so as intimidating and difficult than finally choosing and committing to a school. If you received multiple letters of acceptance, you may find yourself—after the excitement has died down—struggling to see where you can picture yourself for the next four years. By outlining your personal priorities and measuring your potential schools against them, you can figure out which school will be the best fit.

Some students already have solid career plans in high school. They know what they want to study in college and what job they want upon graduating. If you have a strong conception of your ideal career path, take a closer look at the schools' course offerings and extracurriculars. Pay particular attention to the higher-level courses, and compare those courses at each school to see which ones will prepare you best for life after college. As for extracurriculars, look into clubs and societies relevant to your academic interests and inquire about their activities and events. Beware that some clubs that colleges advertise in their brochures are actually less active than they would have you believe.

If you have an idea of what interests you, but you haven't exactly narrowed it down yet, you should also take a closer look at the relevant departments at each school. Departments with a wide variety of subject matter allow for exploration and often result in a better understanding of what you wish to study and pursue after graduation. After all, a literature department that offers courses on Borges, Joyce, Morrison, Steinbeck, and Tolstoy may be more appealing to a burgeoning English major than a department with courses devoted exclusively to American writers and their works.

Another important factor when it comes to choosing a college is the faculty. Not only do professors teach your courses, they also serve as advisors and mentors during your undergraduate years. However, at some colleges, teaching assistants (graduate students) often teach undergraduates while the professors make occasional appearances. Identifying whether or not this appeals to you will help you narrow down your list.

Size is another incredibly significant aspect to take into consideration when selecting which school to attend. A larger public university can have a more diverse student body, but it can also be overwhelming and socially isolating if you have a hard time navigating that type of environment. A smaller liberal arts college provides a more intimate experience though it can be monotonous and stifling. Find out how small or large the classes are, specifically for your major, if applicable. For example, some programs at large universities manage to have classes with only 13 or so students in them, combining the education of a liberal arts college with the social atmosphere of a large university. A school's size also definitely influences its campus life, as do its athletics and clubs. In college, the experiences you obtain outside of the classroom can matter as much as the ones inside the classroom, so pick a school that gives you the opportunity to pursue both your academic and non-academic interests.

Location matters when it comes to nearly everything in life, and college is no different. When picking your college, figure out in which climate and setting you're most comfortable. If you find yourself more miserable during the winter time, avoiding schools in New England is probably a good move. If you hate small towns, attending a small college in western Pennsylvania may not be for you. Also, if you tend to get homesick or want the option of going home regularly (you know why: laundry!) or every once in a while, choose a school relatively close to home; alternately, if you want to avoid surprise parental visits, attending a school further away may be in your best interests! Regardless of your preferences, choose a school in a location where you'll be at ease so you can be your best and make the most of your college experience.