Already thinking about packing up your clothes for when you move to campus this fall? In college, you want to dress cute and comfortable and not break the bank. You've got this. These five college wardrobe essentials will help.
Speaking from experience, college is a time when you're looking to pinch pennies wherever you can. Whether you're saving to pay off student loans or prefer to put your money towards big weekend events, I think it's safe to say that you can't spend a fortune keeping up your college wardrobe.
However, it is possible to keep your fashion choices on point without breaking the bank. The best way to do this is to stock your closet with a few high-quality, versatile basics perfect for any occasion.
From study groups and sorority events to campus game days and first dates, these five key pieces will have you covered before you can even head to the closet and think, "What am I going to wear?!"
Little black dress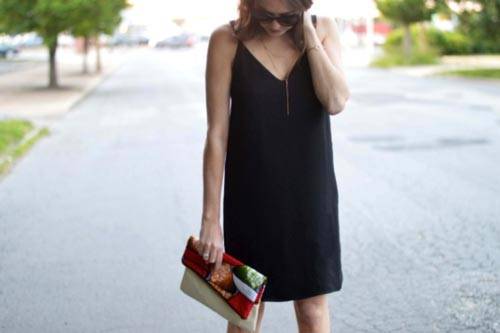 Of course, you gotta start with the LBD.
The little black dress can come in a variety of forms, so the first step is to find a style that flatters your body type. I am a fan of a loose-fitting shift dress, but if you tend to lean towards more form-fitting styles, there are plenty of options out there!
The best thing about an LBD is that you can use accessories, like shoes, jewelry, scarves, and handbags to update the dress based on the formality of the event you're wearing it too. For a last-minute thing or a first date, slip on a pair of wedges and a chic neck scarf. For more casual occasions, pair your little black dress with a fun pair of flats and a crossbody bag for a laid-back look. Throw a blazer on top and it even works for your first internship or job interview!
Booties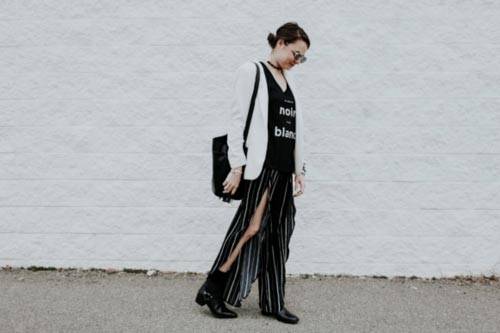 Booties, booties, booties! I wear booties year-round for every occasion imaginable. I have a go-to pair of flat booties for days with a lot of walking involved when I need guaranteed comfort. Flat boots are perfect for day-to-day wear, walking to class, hanging out at the library, giving presentations—I could go on forever, but you get the point. You might also grab a second pair of booties with a heel to wear when you just don't feel like putting on a pair of stilettos. Pro tip: you can even wear those booties with your LBD for a more edgy look.
Crossbody bag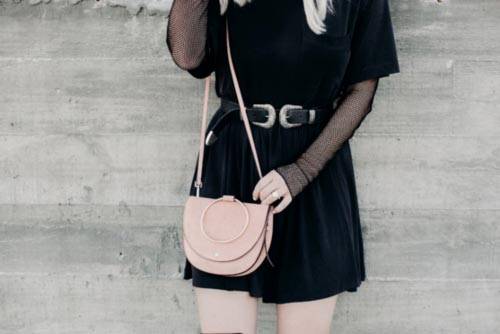 The crossbody bag is a college girl's best friend, plain and simple. It's great to have a backpack or tote to carry to class or take on trips, but when it comes to sports games, nights on the town, sorority events, and spontaneous dates, you really need a hands-free, only-fits-the-essentials bag. I like to choose bags in a neutral tone that will go with everything, but you can also go for a bright, fun color or print to add some zing to your wardrobe. It's college—you can get away with it!
White blouse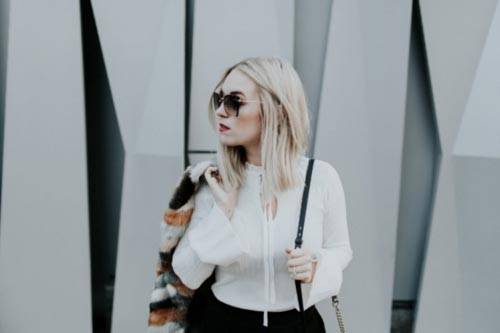 A versatile white blouse is also a necessity in your college closet. This piece is perfect for presentations, interviews, and all those "dress like you aren't a college student" occasions, so you should always have one in your closet. On the other hand, a white blouse is the perfect blank canvas for showcasing your personality while still being appropriately dressed. I tend to gravitate toward something with a little bohemian twist, like flowy sleeves, but you do you!
Perfect denim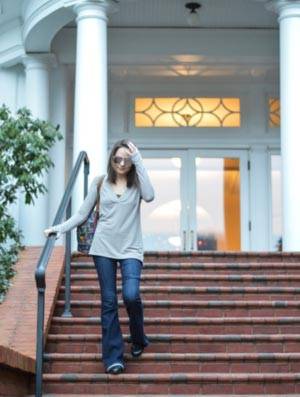 I can't tell you what your perfect pair of jeans might be, because everyone has their own preference, whether it's skinny jeans, cropped jeans, flared jeans, or boyfriend jeans. However, it goes without saying that denim is crucial to a college wardrobe, no matter the season. Find your style, your preferred color or wash, and always have them available to wear on any occasion. After all, let's be serious, you'll always be wearing jeans to class.
Ready to hunt down these college wardrobe basics? When you're on a budget, shopping secondhand for these tried-and-true items is the way to go. You can often find women's designer clothes that will last a lifetime at a fraction of the cost! Once you equip yourself with these versatile pieces, I can confidently say that you will find dressing for college to be much easier. From a great pair of shoes to your favorite skinny jeans, all it takes is a handful of reliable pieces to make dressing for the big moments of college simple but fabulous!
What are your college wardrobe essentials? Got any good denim recommendations we should try on now for fall? Leave a comment and let us know.