So you're getting ready to move into your college dorm for the first time…or the third. But either way you need furniture and accessories that are inexpensive, useful, and attractive. That's why I swear by IKEA! I make a trip every year, and I always find affordable new things to use in my dorm room, or my room at home for that matter. Here are some of my favorites…
Throws/blankets
Some of the first things I found during my last IKEA trip were super-soft, inexpensive fleece throw blankets for just $3.99. I love blankets like this for decoration as well as coziness, especially as the weather starts to change—and your dorm isn't the warmest. Available in red, white, gray, and green.
Customizable pillows
I had no idea IKEA did this until a couple weeks ago, but whoever came up with this is a genius: You buy a base pillow for cheap and then different covers that simply zip on and off for when you move it from one room to another, decide to redecorate, or simply change your mind. The 20" by 20" base pillow is $2.99, and most pillow covers are between $5 and $10.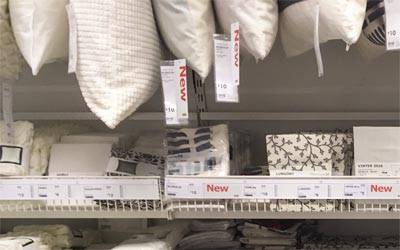 Mattress protector
I've used this mattress protector for almost a year and a half while at college, and I've never had a single problem with it. I love how it's made specifically for twin extra-long beds, and the elastic straps mean I don't have to wrangle it onto the bed like a fitted sheet. It's comforting to have an extra layer between me and the dorm mattress, and it's really soft too! It's $6.99 for twin extra-long and comes in white.
Battery-operated string lights
One of the most popular things students use to decorate their dorm rooms are string lights. They're simple, cheery, and great when one roommate is trying to sleep and the other one doesn't want to sit in the dark. Unfortunately, normal string lights often heat up to an uncomfortable temperature and usually come in lengths meant for an eight-foot Christmas tree, not a tiny dorm room wall. IKEA has solved all these problems. These LED lights don't heat up, they're meant for general (non-tree) use, and the battery pack eliminates having to find an extra outlet in a room that already has a power strip plugged into every outlet. They range from $20–$30.
Collapsible shelves
I love these shelves so much. They're just the right size for most normal closets, or you can compress them for a dorm closet or wardrobe instead. I've used mine in my dorm for the second year in a row and couldn't be happier. The top has straps that Velcro together to attach to a curtain rod, and if there are too many shelves for your closet, you can bunch up whatever ones you don't need and keep the rest. It's $6.99, available in white, green, black, blue, and purple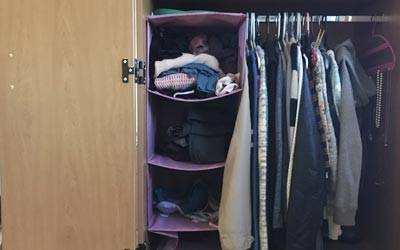 Lap desk
I love lap desks for those times when you give up on doing homework at your desk, or your laptop starts to overheat when you're watching Netflix. Either way, this one is great because the curved shape actually fits in your lap, and it's very soft. It's one of our pricier items at $14.99, and it comes in gray.
Cord organizer box and lid
When I first saw this box, I thought it was completely ordinary. However, it's actually a really useful cord organizer and solves an issue so many people have, college students included. There are multiple slats in the bottom, which is raised just a little, for your charger cords and a hole in the lid so you can run the cord through the box and use your phone while it's charging if you want. It's $9.99.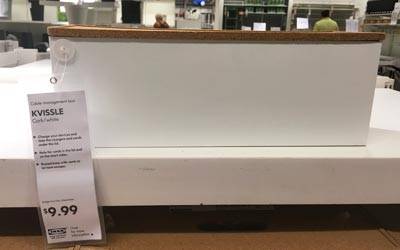 Book End "B"
As an avid book lover, I fell in love with this metal bookend the minute I saw it in IKEA—until I discovered it's only available as a "B." (I would prefer an "E" for Emily!) But if you want it to stand for "book" or your name starts with a "B" (lucky!), then this is awesome for you. The bookend is very sturdy, it's only $1.99, and the clean white lets it work with any color scheme.
LED lamp
For their small size, these lamps are pretty functional. I've had the clip light for a couple years, and it's the just the right amount of light to read by before I go to bed. I had no idea that there were also floor and table versions. I love them because they're small without sacrificing usability, making them great for cramped dorms. Table version is $9.99; floor is $29.99; and clip are $14.99.
Laptop stand
How many times have you set your laptop down in front of you on your bed or couch and the fan started going crazy and you thought it might blow up? Maybe it's just me, but I feel like this happens quite frequently and I hate how much noise it makes, not to mention what it's actually doing to my computer. That's when I get up from my Netflix and go borrow my mom's IKEA laptop stand. It's big enough to fit any laptop, and the angle is perfect for working or watching videos. And it's only $2.99!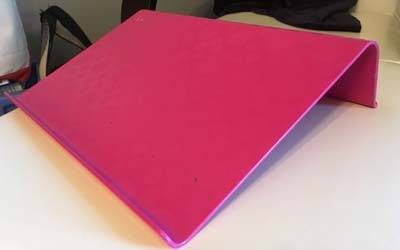 Food containers (aka Tupperware)
Who doesn't love leftovers? When you're a college, they can be a lifesaver. But food containers are often hard to fit in the fridge (especially when it's a mini fridge). Also decent containers that don't fall apart can actually be expensive. These IKEA food containers may not last forever, but they're perfect for college. And similar sets cost a lot more than five bucks. This set is $4.99 for 17 pieces.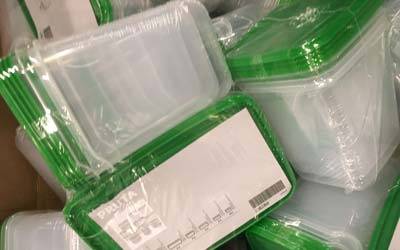 Hangers
Who doesn't need hangers? Even if you think, "Oh, I never hang anything up at home; why would that change at school?" it will. Most dorm closets are designed with a fair amount of space to hang things up, so you'll probably be forced to use it. These hangers are thin but still durable, so you'll have them for all four (or more) years, and they won't waste any precious closet space. Packages of four cost 39 cents.
Decorative stickers
When I first saw these decorative stickers in the store, I thought they were canvases or paintings; they did not look like stickers. They held very well to the board they were mounted on, and the edges weren't glaring and unattractive either. They come in all sorts of different designs and can be put up and taken down multiple times, so you can use them year after year. They run from $12–$18.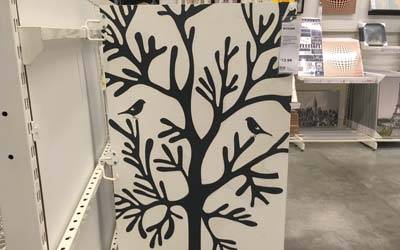 Hanging bedside organizer
Most dorm rooms don't have the room for a nightstand, and you never realize how much you actually used your one at home until you have no place to put your phone down before you go to sleep. I had a hanging organizer like this one that I used for a whole year when I didn't have any place to put my iPad or book before I went to sleep. They either hook over the side of your bed or go under the mattress, and they're a great way to make use of space you didn't know you had. $4.99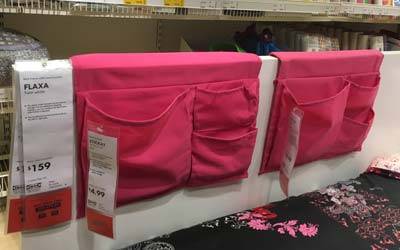 LED creature nightlight
I love these nightlights. When I found them, I was looking for small lights I could put on my side of the room while my roommate was asleep, and these were so cute! They come in red and blue, but both change colors. And they aren't so childish that they could only be used in a kid's room. They're not quite bright enough to read by, but if you need to get to the bathroom in the middle of the night or just want a little multi-colored ambience, these are perfect.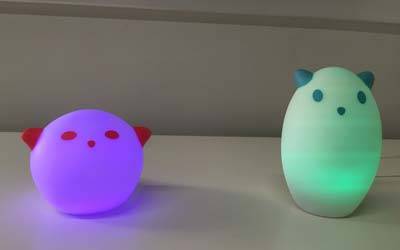 17-Piece Tool Kit
If I didn't already have a tool kit in my dorm room, I would've bought this in a heartbeat. It includes a hammer, wrench, and screwdriver with several bits, plus other tools. I didn't think I would need a tool kit when I moved to college, but I use tools from mine probably every other week. You'd be surprised how often things can break! It's $7.99.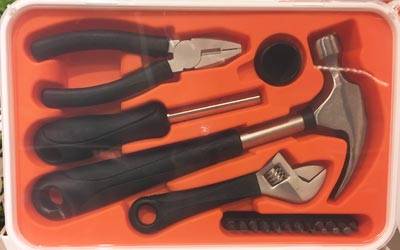 Power Strip
Considering how few outlets most dorms have, very few students can go without a power strip. I have two on my side of the room alone! That's why I was so glad to find IKEA carries them for so cheap ($5.99 for two).
Box with lid
As much as we try, sometimes organization just doesn't happen—even though there are things you need to get to on a regular basis that deserve a better place than a pile on your desk. That's why I love these boxes from IKEA. They're cardboard, so they're very light, and they come in a lot of different, fun patterns. And best of all, they're super cheap, so you can buy as many as you need for all that junk—erm, useful stuff—you have lying around. They start at $3.99.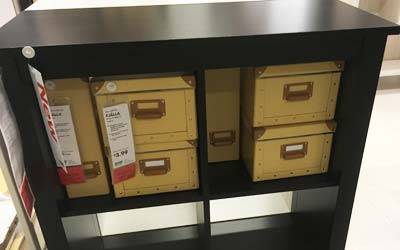 3-Port USB Charger
This charger setup is awesome if you need to charge several things at once and you don't have the outlets for it. Great for when your phone, iPod, and tablet all die at once. (It happens!) It's $9.99.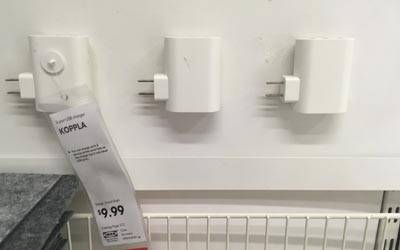 So there you have it: the best college dorm finds from IKEA. Not only is this store really great for having high-quality, fun, and trendy products; their prices are also amazing and perfect for poor college students! I found so many more cool things on my latest trip, so watch out for more articles like this one…