Now more than ever, students at campuses across the country are pouring effort into fundraising for different charities. However, a handful of these events have been quite out-of-the-ordinary, adding a little "phun" by throwing in some non-traditional philanthropic events.
Purdue University in West Lafayette, Indiana, did exactly that last April. The Zeta Beta Tau fraternity and Phi Mu sorority teamed up to help the Children's Miracle Network, an organization that raises funds for children's hospitals, medical research and community awareness of children's health issues. The two Greek organizations share the philanthropy, so they decided to raise money in an unconventional way: by a massage train.
The Zeta Beta Tau Philanthropy Chair Phil Minasian thought of the idea to not only to raise money for a good cause, but also to try and break the Guinness World Record of the longest massage train. The record at the time was 1,224, with the U.S. record at 636. Although the event didn't break any records, 451 Purdue students came to take part, raising $2,200 for the Miracle Network. Check out the video on YouTube presented by the school newspaper, The Purdue Exponent.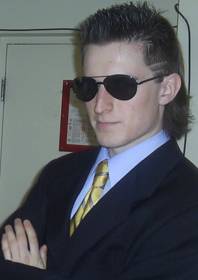 One student group has even managed to raise money through a favorite throw-back hair 'do: the mullet. Alex Hintlian, a Bentley University graduate, thought up the idea to have a "Mullet Man" fundraiser to benefit The Ellie Fund, a nonprofit organization that fights breast cancer and eases its effects on patients and families. When he began interviewing for jobs, Hintlian started to get the impression that no one in the corporate world liked his long hair. He decided to keep his 'do for a good cause, and worked with his fraternity, Delta Kappa Epsilon, to raise funds through a "Mullet Man" competition.
The fraternity members collected money from students and friends to vote for who would look "sexiest" with a mullet, and for every $50 raised, the "winner" participants had to wear a mullet for one day. Hintlian said they raised about $350 each year, forcing the competitors to don the old school 'do for an entire week! But with over $1,000 collected over the three years the annual event has taken place, the awkward hair is totally worth it.
Photo provided by Alex Hintlian