April vacation is usually a popular time for prospective students to visit colleges, but as you know, things are a little different this spring. Campuses are barren as most schools have closed their doors and moved operations online to help stop the spread of COVID-19. Unfortunately, this means a lot of canceled open houses, new student orientations, and official campus tours. The good news is there are alternatives to help everyone stay as connected as ever thanks to technology. Many colleges and universities already offered virtual tours on their websites to take students into classrooms, residence halls, and other prominent campus buildings—and more are realizing the necessity of offering this digital resource to students conducting the college search while they're stuck at home.
Make your virtual campus visits more fun!
We know videos and virtual guides can't replace the feeling of stepping foot on campus, asking your questions face-to-face, and exploring on your own terms—but they're a helpful and convenient replacement for the current situation. You may remember our version of Campus Visit Bingo that we created last year. Since you can't see all the fun stuff you might see in real life on a virtual tour (like students walking around campus in their pajamas), we've designed a new version that you can play along as you're touring online: Virtual Campus Visit Bingo!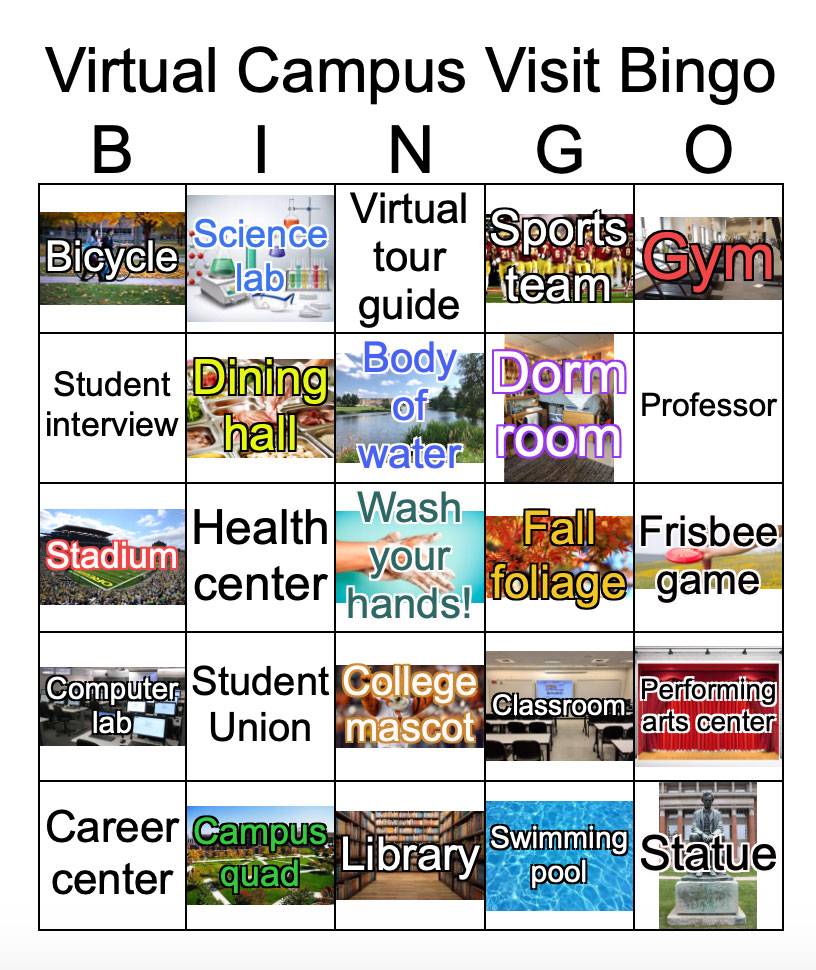 How to play the game
Just visit this link to generate a unique Bingo card. On each card, you'll find common campus tour highlights like library, dorm room, dining hall, classroom, and other things that can still be found during a virtual tour. But this version also includes B-roll and other content you may encounter on a college's website, including aerial shots, student interviews, sports footage, and more.
When you generate your Bingo card, you'll find a random selection of the following:
Admission office
Aerial shot of campus
Animal (like squirrels running around campus)
Bicycle
Body of water (like a fountain, pond, lake, ocean, etc.)
Campus quad or central green space
Classroom or lecture hall
Coffeehouse
College mascot
Computer lab
Dining hall
Dorm room
Fall foliage (a must for New England campuses)
Frisbee game
Gym or fitness center
Health center
Library
Performing arts center
President or dean
Professor
Science lab
Sports team
Stadium (indoor or outdoor)
Statue
Student Union building
Student interview
Swimming pool
Virtual tour guide
Keep a separate window with your Bingo card open while you're browsing around a college's website or taking a virtual tour. When you spot one of the items on your card, just click or tap the square to mark an X. Get five X's in a row horizontally, vertically, or diagonally to win! (Of note: the free spot is "Wash your hands!" since we do this a million times per day now.)
Related: 3 Good Alternative Options for Canceled Campus Tours
Prizes for winners!
We want to see your winning Bingo cards! Just take a screenshot of your card; post your pic and tag us @CollegeXpress on Twitter, Facebook, or Instagram (or email us at feedback@collegexpress.com); and let us know what school you were touring virtually. We'll send any Bingo winners some CollegeXpress swag for all your hard work.
All the cool kids are playing
We recently sent out an email about Virtual Campus Visit Bingo to some of our registered users, and we've had so many winners so far! Lauren toured King's College and got five in a row. Kristin explored Case Western Reserve University's website and got Bingo through a combination of webinars and virtual tours. Zander attended a virtual info session with Presbyterian College and won. And Hannah told us, "I was already searching up University of Louisville when I got the email, so I figured why not. I never knew they had a pool or let alone a swim team. I am super excited!" Nice job, everyone!
If you're looking for other things to do on your virtual campus tours, check out our List of Essential Campus Visit Questions to see what you can ask admission officers and current students over email or chat. You can also visit our COVID-19 resources page to find more ways to pass the time. Have fun and good luck!