Originally Posted: Mar 5, 2013
Last Updated: Mar 5, 2013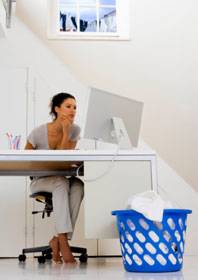 You may have heard in recent news that Yahoo! CEO Marissa Mayer issued an edict preventing employees from working at home. As a college student that has, most likely, only had on-site jobs like babysitting, internships, being a clerk, etc., it's a little challenging to comprehend the depth of this kind of mandate. So let me put it as plainly as possible: it's kind of a big deal (or at least in the eyes of the media outlets constantly reporting on and debating the issue).
In the days of our forefathers (heck, just our fathers), telecommuting wasn't an option. You drove to an office building with a desk, a phone, and . . . well, that's pretty much it. But these days, with the advent of the Internet, social networking, and mobile devices, employees are now able to able to work from wherever they're located: traveling to visit clients, on the chairlift during a ski trip, and yes—at home. So if we managed all those years to survive without telecommuting, what's the big deal about Mayer's decision?
There's one word that has been repeated surrounding this story: flexibility. Employees appreciate having the option to telecommute. Have an electrician coming to make repairs? Work from home. Nanny unavailable to take care of your kids? Work from home. Telecommuting enables employees to continue their work seamlessly without losing what are likely a limited supply of sick days to less significant events like these.
When you're interviewing for jobs, and you're finally offered one, what are some things you need to know about telecommuting? Here are some pointers to keep in mind:
Emergencies
As someone working in the snowy state of Massachusetts, this is the only telecommuting situation I've encountered. In major circumstances—Hurricane Sandy, the "Nemo" blizzard, etc.—we've been allowed to work from home. Many companies will allow this because they recognize the value of their employees, and rationalize that they'd rather have them working out of the office than risk harm during the commute. (Not to say that companies without this policy don't care about their employees.) This isn't possible with all jobs, though. There are jobs—such as customer service representatives—that need to be in the office to do their work. So whatever position you're interviewing for, it may not hurt to ask what their work-from-home policy is regarding emergencies.
Thinking full time?
If you're considering a full-time telecommuting position, it certainly sounds great at first—there's no need to battle traffic or even change out of your pajamas! But it's not all as glamorous as it sounds: you're stuck in the same house/apartment all day and all night, you miss out on the one-on-one interaction with coworkers, and you may have trouble separating work from life when it all happens in the same place. Also, there is a range of telecommuting job scams, so be wary. Of course, this doesn't mean that all opportunities are fake—telecommuting can save both companies and employees money, so many more organizations are embracing this option.
Relevant reasoning
Sometimes, the ability to work from home comes with age. Senior employees are often fully equipped with any tools necessary to work from wherever they're located, whether it's a company laptop or mobile phone. The situations will differ, but when extra hours are spent beyond the office on work-related tasks, their job turns into a combination of office presence and telecommuting. But that's not always the case; unique situations will come up and companies will grant certain employees the ability to work from home—some employees need to care for a family member, while others are located too far to make a reasonable commute possible. There are myriad reasons and situations, whether working from home for two days a week, a few months at a time, or for the full-time position.
Keep in mind that every company—and even manager—is different regarding policy. It's helpful to know the telecommuting policies of a company if it's an on-location job, but if you have a leader like Mayer, don't turn the job down too quickly. Times change, people change, and your job may change too.