If you think writing on your graduation cap is the way to make a statement, just wait until you see Kalā Kaawa's graduation photos.
The 23-year-old recently participated in the winter graduation ceremony at the University of Hawaii at Manoa proudly donning just a malo—a loincloth and traditional basic garb for Hawaiian men.
Kaawa wore the malo both during the traditional Hawaiian oli chant that opened the ceremony, and though he put your standard cap and gown while sitting in his seat, he removed them to walk down the aisle to receive his diploma. Kaawa admits he was (understandably) nervous about taking that long walk in a malo in front of thousands of people . . . and then that same crowd greeted him with raucous cheers and a standing ovation.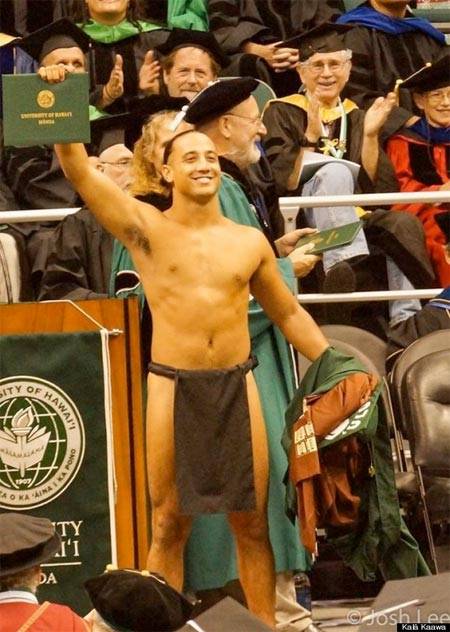 Image credit: Josh Lee, via The Huffington Post
"I was so touched by the reaction of the crowd that I stood there in complete awe for a while . . . soaking in the feeling of accomplishment and pride for my culture," he says, as reported by The Huffington Post. "It felt really good to be received that way by such an enormous crowd."
In Hawaiian culture, where nudity is not necessarily considered sexual, men of all statures, from royals to commoners, would wear the malo. And Kaawa wasn't the only one rocking the loincloth either; several other students joined him during the opening oli.
"Culture is a big thing in my family, and I just wanted to bring that out to the public so other people or families can show their roots and be proud with their culture too," Kaawa says, as reported by Hawaii News Now. He says even strangers supported his decision, giving him leis after the graduation ceremony. Kaawa, a Native Hawaiian, received not one but two bachelor's degrees from the School of Hawaiian Studies, and he says he plans to pursue a master's degree in Hawaiian studies as well.
Kaawa told news sources he wanted his choice to wear the malo to remind people, citing Pacific Islanders specifically, to both be proud of their heritage and to keep those cultural traditions alive for future generations.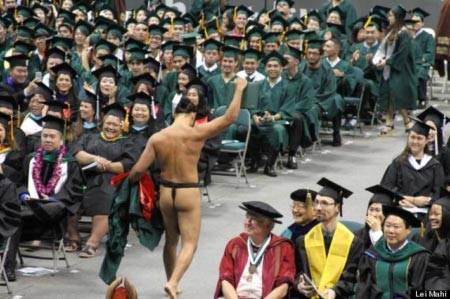 Image credit: Lei Mahi, via The Huffington Post