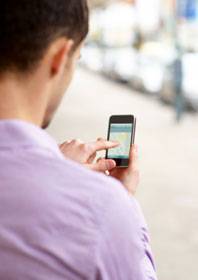 So you've got a great GRE or GMAT score, you've worked hard on your grad school applications, and you've been accepted into one of the best graduate programs in your field. Now, it's time to plan what to take with you! If you're upgrading or purchasing a new phone to keep in touch with family and friends, you will be astonished by the number of apps out there that are education-related. Here are six must-have iPhone apps for graduate school students. And because you're going to be on a budget, they're all free!
iHomework
Manage your homework schedule with this awesome organization app. Courses, teachers, reminders, and reading are all buttons offered and it has a clean Mac interface. You can even sync the app with your computer, but you do need to spend another $1.99 to get the iOS version. Use it as a planner to keep track of your assignments and obligations! No need to carry around pen and paper planners anymore.
Free WiFi Finder
Want to know which coffee houses near campus have WiFi? Use the Free WiFi Finder app and you'll soon be sipping your chai latte and studying away. Plus, to see only the free connections, just hit the "Free Only" button.
Blackboard Learn
A great way to access Blackboard on the go—which is quickly becoming one of the most-utilized tools by professors—is the Blackboard Learn app. Find out about next week's homework and look-up your test grades! Not all schools use Blackboard, so keep in mind this app must be enabled by your school to function and is free for you only if enabled. The no-cost version can only be accessed via WiFi.
GPA Calculator
Your grade point average (GPA) is calculated by dividing the total amount of grade points you've earned by the total amount of credit hours, and the grade point average can range from 0.0 to a 4.0. Use the GPA Calculator app to figure out your GPA on the go!
Amazon Mobile
Bookstore prices too expensive? You can usually find a cheap used edition on Amazon! Chances are you'll have to buy the course readers directly from your bookstore, but the supplemental reading can usually be found a lot cheaper online. Amazon frequently has free to low-cost shipping as well!
Wordbook English Dictionary and Thesaurus
Need to find definitions and synonyms to to improve the syntax of your term papers? Then you'll need the Wordbook English Dictionary and Thesaurus. No need to lug around a massive dictionary anymore! Gotta love technology. . .