Imagine: instead of spending eight years on your undergraduate and medical degrees, you could finish both in just six. With an accelerated direct-entry medical program—aka combined BS/MD or BA/MD programs—this is a possibility. These competitive programs give students the opportunity to go directly from undergraduate to medical school with no need to apply to med school separately. The benefits of these programs are huge—instead of being faced with the uncertainty of a medical school application, students can enter their freshman year of college with the assurance that they're well on their way to becoming doctors.
Pros of an accelerated medical program
The application process for medical school is usually extraordinarily stressful and highly competitive. By gaining acceptance to a direct-entry medical program, you don't have to worry about applying to med school in the future. Instead, you can focus on doing your best and growing as a student with the assurance that your future is secure. Acceptance to an accelerated program also means you'll save money, because these programs tend to take one or two years less than a standard medical program. You'll be ahead of your peers and well on your way to earning your MD before they even enter med school.
Related: How Can I Be a Strong Candidate for a BS/MD Program?
Cons of an accelerated medical program
Students who want to pursue this option must commit their senior year of high school to a career in medicine. That can be a lot to ask of high school students who are still trying to figure out their future interests and goals. Some students know from a young age that they want to be doctors, but for those who aren't as sure, an accelerated program might be too big of a commitment. Of course, if you do decide against medicine after joining an accelerated program, you can get out of it, but that might cause you more stress.
And remember that an accelerated program is just that—accelerated. You're often cramming eight years of intense schooling into six or seven years. You'll most likely be going to school year-round to finish your degrees so quickly. There isn't much time or flexibility for some of the more typical undergraduate experiences such as regular socializing, traveling, or getting a summer job or internship.
Related: How to Be a Competitive Med School Applicant
Examples of accelerated programs
Once you've weighed the benefits/drawbacks and decided that an accelerated program is the right choice for you, here are two options for accelerated direct-entry medical programs:
Related: How to Get Accepted to a Direct Medical Program
Howard University College of Medicine
Located in Washington, DC, Howard University College of Medicine admits a limited number of students into their BS/MD program. Entrance requirements for the program include a minimum science GPA of 3.25 and a minimum overall GPA of 3.5. Students must earn a minimum of 504 on the MCAT. An interview and letters of recommendations are required as well.
University of Missouri—Kansas City School of Medicine
UMKC School of Medicine offers a BA/MD program that fuses medical science and clinical skills with the liberal arts and humanities. Applicants must receive an unweighted GPA of at least 3.0 in the 17 core requirements of the University. Applicants must achieve a minimum of 24 on the ACT to qualify, and 1160 on the SAT if it was taken after March 2016.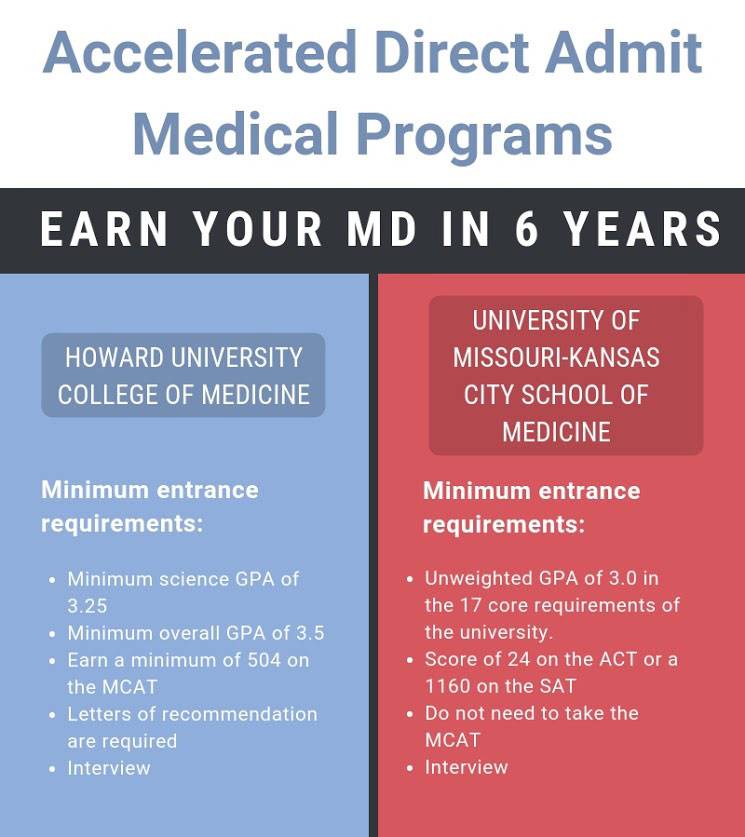 For those who are certain in their chosen career path of medicine—and want to get there fast— an accelerated medical program could be a good fit for you. With programs like those listed above, you can get your MD in just six years!
Start searching for schools with accelerated medical programs with our College Search tool.