Although it's been more time than I can believe since my high school graduation, I can remember the days leading up to it and the summer after like they were yesterday. The end of senior year of high school is a really fun but sentimental period as you try to spend as much time with all your friends before everyone splits off to their colleges in the fall. In order to make the most of the days you have left, I've compiled a list of the seven most important things you should do before high school graduation.
1. Participate in senior activities
Okay, so this is really multiple things rolled into one. But chances are your high school will have some kind of senior countdown, celebration week, or theme days leading up to graduation. Participating in these events not only makes the school days go faster but it's so much fun! Get together with a big group of friends and figure out what you'll be doing every day for the theme. Take goofy pictures and really go all out. My senior year countdown is something I look back on the most fondly, and even if it seems goofy at the time, you'll be happy you wore a poodle skirt to school one day.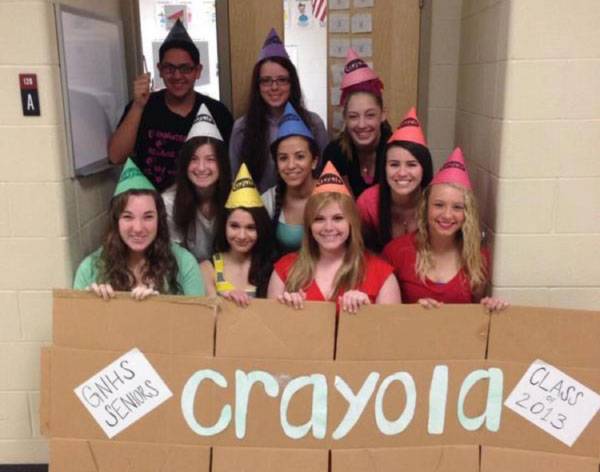 📸: Krysten Gross
2. Consider senior ditch day
I'm not telling you to ditch school…but I'm not telling you not to. Also, instead of ditching school on an actual school day—which could get you in trouble or affect your grades—you could have a "ditch" day with your friends on a weekend. At any rate, you can go to the beach or have a picnic or barbecue. Plan on going to a baseball game or spend the day on a lake. Your senior class might even plan an official senior outing, and these would be perfect activities for it.
3. Go to prom
I was super pumped about senior prom. I couldn't wait for it—and I had already gone two years in a row. I understand, however, that some people don't feel so excited about prom, and that's totally cool too. But let me tell you, if you're on the fence about it, you should go. Yes, it's a little over the top and silly, and it could potentially be expensive, but it's another one of those high school senior activities that you'll always look back on, and you might regret it if you don't go. Also, you absolutely don't need a date to go to prom! Just grab a friend or a group and dance the night away. It may be cliché, but your 30-year-old self will thank you for going.
4. Stay focused
It's super hard to stay focused in high school when you've already been accepted to a college…and already taken your AP tests…and only have a few finals standing between you and sweet, sweet freedom. However, I know multiple people who seriously slacked in the months leading up to graduation, and their colleges actually revoked their scholarships—so be careful! You want to finish with a bang, not fizzle out.
Related: How to Lose Your College Acceptance
5. Kick butt in your AP tests
Speaking of staying focused, if you're taking any AP tests, they'll be coming up right around graduation too. Make sure you put in the work, go to study sessions, and take practice tests, because you can earn nice chunk of college credit with passing AP scores. That's usually a 4 or 5, but I even earned some credit within my institution with an AP score that wasn't considered "passing"! So definitely give the AP exams your all, because they can really help you in the long run.
6. Thank people
Write thank you notes (and maybe even procure some gifts) for your teachers, especially anyone who wrote your letters of recommendation for college applications or scholarships. Take the time to really reflect on which teachers and faculty impacted you the most and make sure they know that by the time you walk across the high school graduation stage! It might seem old fashioned, but a written thank you can go a long way.
7. Rock some college gear
Get excited about the future by repping your college! It's really fun to have people ask you where you're going and what you plan on doing, and chances are a lot of the people you know in high school are just as excited as you are and doing the same thing. Stocking up on some college gear now will mean you can show your school spirit at events right away. (And a college sweatshirt really takes the edge off a chilly spring baseball game!)
Related: How to Finish Senior Year of High School on a Strong Note
Before you know it, you'll be well into your college years, so cherish every minute you have left of high school while it lasts. High school graduation is a huge milestone, and you want to be able to look back fondly on the days before it so you can reminisce with your friends from home when you all come back for break!
If you're going to college, you're going to need some scholarships! Spend some of your free time after graduation finding free money with our Scholarship Search tool.