Senior year—you made it! Well, almost. You still have a full 25% of your high school career to go; don't even think about slacking off now! It's as important, if not more so, to finish strong as it is to start strong. It's unlikely that you feel the same nervous jitters you did on the first day of freshman year, but that is what makes senior year all the more dangerous for the unprepared student. Don't fall into a false sense of security just because you've survived the last three years. Senior year comes with a lot of new responsibilities and experiences. However, if you establish your priorities now, you can avoid wallowing in regret next summer.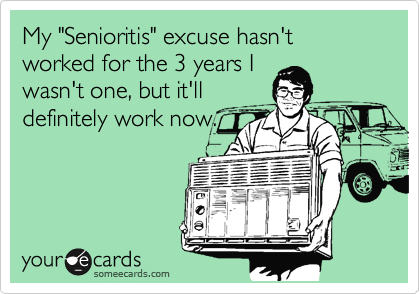 Grades
Yes, I'm sorry to inform you, but your grades still matter. Put yourself into an admission officer's shoes. If a student held a 4.0 for three straight years and then could only muster a 3.2 for their seventh semester, something is definitely up. Of course there are always extenuating circumstances, and you should let universities know if you have a valid reason. However, more often than not, there is no other reason for slipping grades than a slipping commitment. I'm not saying grades need to be your top priority, but they definitely need to be in the top three.
College and future plans
It is important for you to develop a plan of what you will do after senior year is over and for you to take the steps necessary to accomplish your goals. Do you want to attend college? Enter the workforce? Join the army? Whatever your goals are, do not wait until the middle of second semester to pursue them. Make your future a top priority, or you may end up with an unintended gap year.
Scholarships
If you are planning to further your education after high school, scholarships will be a valuable resource for paying your educational costs. Most scholarships are incredibly competitive and require time-consuming applications. It can be tempting to opt out of the scholarship search and all the stress and work that comes along with it. However, putting in the hours to apply for 20 or 30 scholarships can pay back big time. Unfortunately there are no guarantees you will win a particular scholarship, but if you focus on doing your best on each application, you can sleep soundly knowing you didn't leave money on the table.
Friends
Your friends definitely deserve a place on your list of priorities. After high school people tend to go off in different directions, so make time for the people you care about now. You may not be together with your entire group of friends ever again after graduation, so make an extra effort to spend time together. Try to have a campout or even just a movie night before the year ends.
Fun
At the risk of sounding like a summer camp counselor, I'm going to remind you to have fun. Please, please, please don't allow the stress of school and future plans to take away from your senior-year experience. Certainly you will need to work hard to succeed, but there will be lots of opportunities to have fun as well. Your senior year is a special time, an intersection between the end of high school and the beginning of the rest of your life. Be sure to appreciate every minute of it!