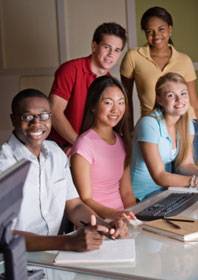 With tight budget cuts and drops in state funding to public universities, a trend is on the rise at many Midwestern universities which may soon become apparent at others across the nation. According to an article by the Associated Press, foreign enrollment has been drastically on the incline at many well-known public universities.
Many of the universities where this trend is becoming evident are members of the Big Ten Conference, including Indiana University, Purdue University, Michigan State, Ohio State, the University of Minnesota, and the University of Illinois. According to the Associated Press, the number of undergraduates from China increased from 87 students to 2,224 students over the past five years at Indiana University.
China isn't the only country largely represented at U.S. public universities. Other countries with high enrollment numbers include India, South Korea, and Saudi Arabia. According to the Department of Commerce, these foreign undergraduate students contribute an estimated $22.7 billion to the economy.
There are many advantages to schools accepting larger numbers of foreign applicants. For one, a diverse student population also leads to a well-rounded student body and encourages a more global perspective on the campus. Additionally, they will most likely pay either out-of-state or an international rate for tuition, which is usually significantly higher than in-state tuition. Many schools do not offer federal and state financial aid to students from other countries and therefore can allocate more funds to the American students attending the university.
On the other hand, higher foreign student enrollments means less domestic enrollment. These public universities were built to provide affordable higher education to students of the home state and taking admission opportunities away from domestic students contradicts the model these schools were built on. Students of families who live in state and pay taxes to the system are given less of an opportunity to gain admission as international enrollment increases. However, with drastic cuts to budgets, some universities need more outside revenue to continue to provide quality resources and education to all its students.
Diversity is a large part of the college experience. Having students from all over the world studying at one campus allows for a broader world-view on behalf of all the other students enrolled. Arguably, it could be said that without the revenue that out-of-state and international students bring to these universities, in-state tuition and fees could be significantly higher to make up for the loss of funds.
What is your opinion on the spike of foreign enrollment at public U.S. universities? Is it good for cultural diversity and the economy or unfair to domestic students who are denied admission? Discuss in the comments below!