CollegeXpress is the place to go to start your college and scholarship search. We might be a little biased, but it's only because we're proud of what we do and the resources we provide to students like you, families, and counselors! Since CollegeXpress.com first launched in 1995, our highest priority has been connecting students with great schools and giving useful and relatable advice so you can go off to college confident and ready to succeed. If you're not a part of our community yet, you're really missing out! Don't believe us? Read on to learn the top five reasons you should use CollegeXpress to help you throughout your college and scholarship search—and beyond.
1. Discover your best-fit college(s)

The college search can be overwhelming, to say the least. Do you want to attend a four-year or two-year college? Are you looking at public or private universities? Do you want a school well known for science and engineering or DI athletics? Or maybe you're thinking about taking a gap year? Whatever your preferences are, CollegeXpress has what you're looking for. (And if you're not sure what the future holds yet, we have a ton of advice on how to figure it out.)
Our College Search tool makes it easy for you to search for schools based on your unique preferences, including majors of interest, location, size, and more. Our search engine is highly customizable so you can explore and research the right colleges for you with intention. We have thousands of school profiles that make comparing colleges super easy, so your final college decision becomes more informed than ever. We also have a Grad School Program Search and college search e-magazines for graduate, transfer, Catholic, Christian, and international students!
Up-to-date college admission data
You might be wondering, "Where exactly does all this information come from?" College search websites vary widely in the information they collect, how they collect it, and how often. At CollegeXpress, we continually gather comprehensive admission data from only the top sources, including information from the colleges themselves! You'll find facts about application processes and deadlines, tuition and other costs, majors and minors, athletics, and much more. We take pride in providing the most up-to-date information possible so you can make the most informed decisions and find the best-fit college(s) for you.
Start creating your free CollegeXpress account right here!
2. Request more info from schools in just one click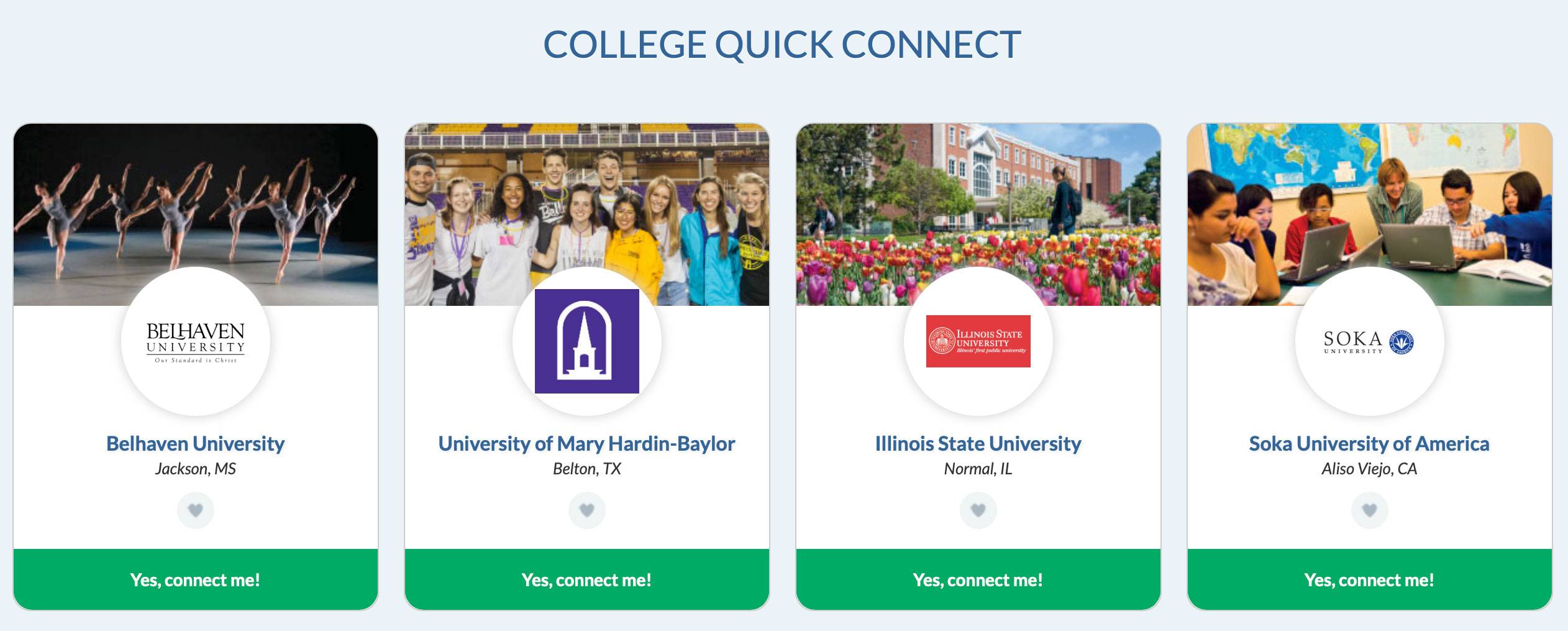 When you're exploring our school profiles, you'll notice our featured colleges have green "Connect me" buttons. These schools want to be easily accessible to you, so if you're interested in them, you can just click the button at the top of the profile to let them know. After you click this button, we'll send your CollegeXpress profile information to the school, then they'll reach out to you with more information. This feature is a great way to ensure you get seen by the schools you like the most and not lost in an inbox among thousands of other students with initial general interest. While not all your schools of interest will have this feature, many well-known schools and hidden gems are available to connect with, which can act as a valuable leg-up in the college admission process. (If a school doesn't have the green "Connect me" button on its CollegeXpress profile, you can still find contact information to get in touch yourself!)
Sign up and start connecting with colleges now!
3. Find tons of great scholarship opportunities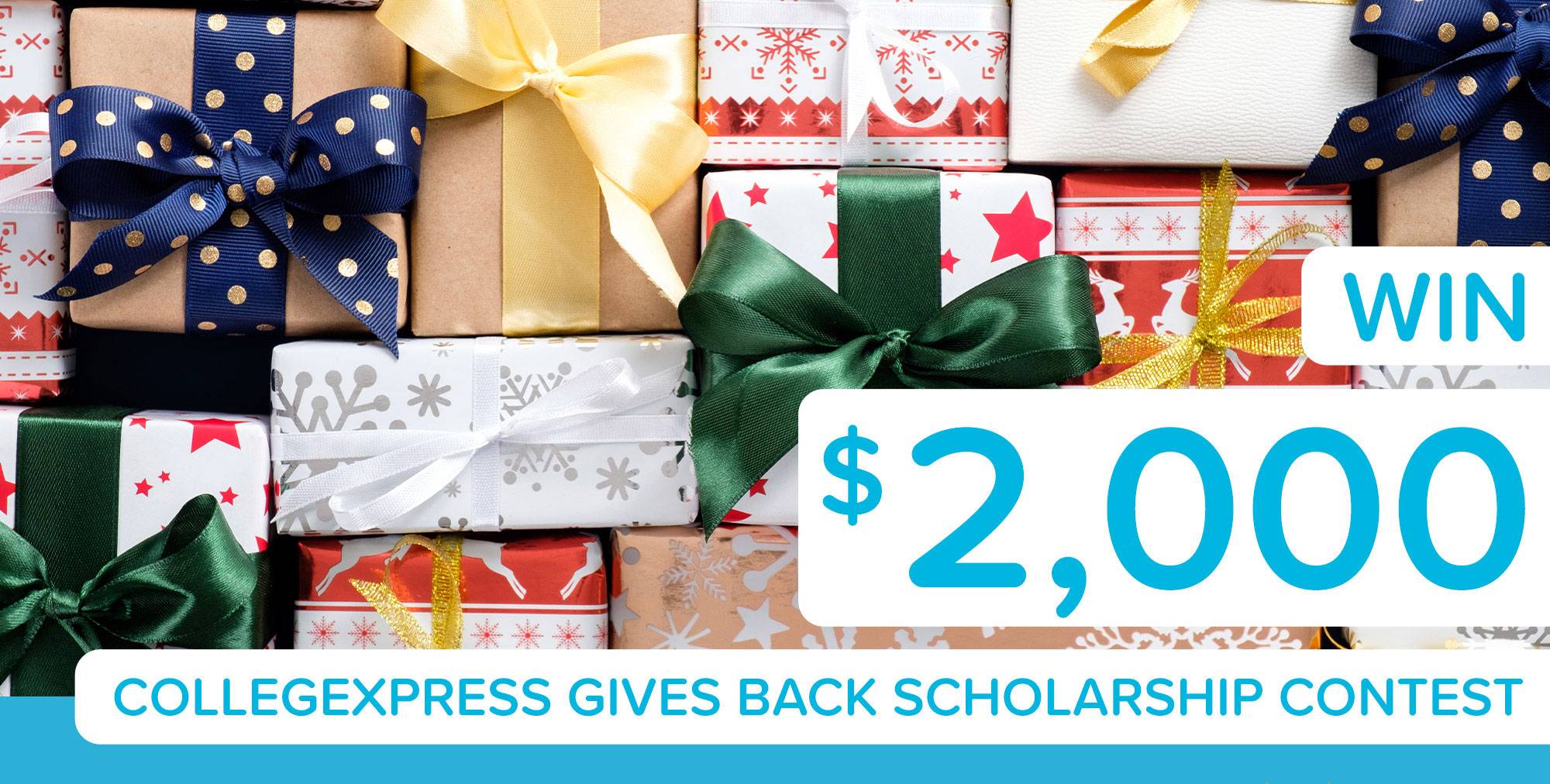 Finding the right scholarships—let alone good scholarships—can be a long and difficult process; a process so arduous, in fact, that some students don't even bother trying. At CollegeXpress, we want to make sure you find the best opportunities to get free money for school so you don't give up before you even start. We have a database with over $7 million worth of awards, and our Scholarship Search tool makes it easy to find the ones you know you'll be eligible for! Just search by category or keyword to find the most pertinent information and a quick overview of each award. From there, you can narrow down your results by GPA, grade level, SAT score, and more. This will help you delve deeper into the worthwhile awards and bypass the unnecessary ones.
Scholarships offered by CX
CollegeXpress also offers our own scholarships for students! Check out these super-easy opportunities to win free money for school:
Every student who creates a free account on CX is automatically entered to win our annual $10,000 scholarship contest, which you can use at any of our featured colleges and universities as a first-year, transfer, or graduate student. No extra application is necessary—all you have to do is complete your CollegeXpress account to enter!
We also offer monthly mini scholarship contests that are even easier to apply for! All you have to do is create a free CX account and answer the featured question in just one sentence. Once you're registered, you can answer the new question every month for another chance to win.
Everyone in our community is eligible for our Refer-a-Friend scholarship. Just share your unique link (found here when you're logged in) with other students, parents, counselors—anyone who you think would love the site! For every person who completes registration through your link, you'll gain an entry into that month's contest. Every month is a new chance to win, and you can win this prize over and over—so keep making referrals to improve your chances!
You can't win our scholarships without a CX account—enter here!
4. Explore not-your-average college lists and rankings
Another cool feature on CollegeXpress is our unique Lists & Rankings. These weren't created to showcase the "top 100 schools in America" based on national standings—these are lists that will really help you find the best-fit college for you! They cover just about everything, from top Business programs to football powerhouses to pet-friendly campuses and more. They're based on expert recommendations, along with some cool statistics and even student-recommended picks. You'll discover great schools you've probably never even heard of before with our 800+ lists that cover majors, learning environments, worldviews, student experiences, athletics, hidden gems, and much more.
Connect with the schools you discover through our lists by creating a free account.
5. Read articles and advice from experts and students like you

Our articles and advice may be the most unique resource on any college search website you'll find. We believe the importance of advice from those who understand the college search process (and struggle) cannot be understated! Whether you need SAT study resources, admission essay tips, advice on making friends when you get to college, or tricks to help you land your first postgrad job, we have a blog post (or several) for it, all written by trusted experts and real-life students and counselors in the CollegeXpress community. We also have an ongoing Student Writers Program and feature student vloggers on our YouTube channel. Let us know if you're interested in participating or becoming a brand ambassador!
We have a special resources page with helpful downloadables too, but it's only available if you register on CollegeXpress.com.
What are you waiting for?
If you haven't signed up for CollegeXpress yet, you're missing out on a free community of support throughout your college search process and beyond. We pride ourselves on providing the best information, resources, and advice we could possibly give to ensure students like you find the best-fit colleges in the easiest way possible. And if there's anything we could do to make this a better resource for you, be sure to let us know.
Get full access to CollegeXpress and all our awesome resources by creating your free account today. We can't wait to make your life easier!