The new school year is upon us, and teachers are doing their best to prepare for the new influx of students. It's a challenge that few understand. Between "summer slide" learning regressions and curricula and classrooms to prepare, many teachers start the planning process early to facilitate the best learning environment and ensure their students can become the best versions of themselves from the moment they walk into the classroom. Learn how industry experts prepare their classrooms and students for success from the first day with the infographic below.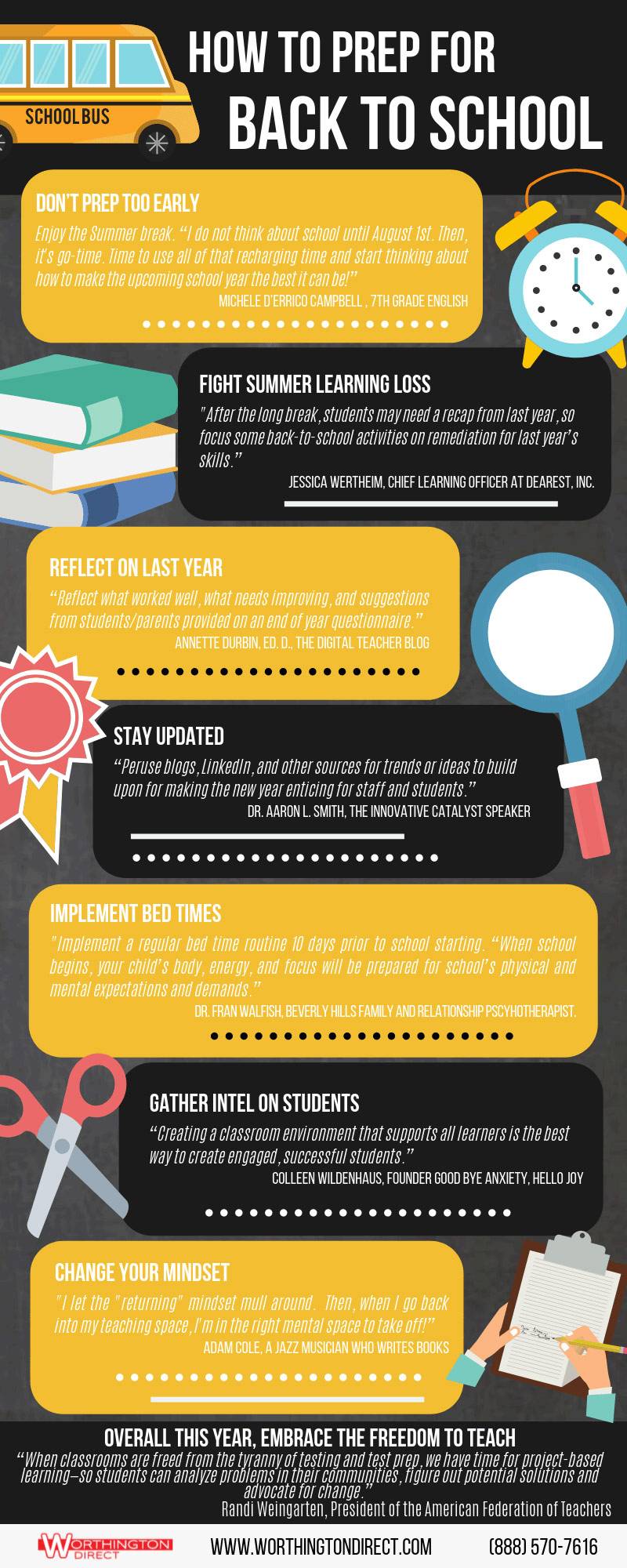 Infographic provided by Worthington Direct
Don't prep too early
Enjoy the summer break. "I do not think about school until August 1. Then it's go time. Time to use all of that recharging time and start thinking about how to make the upcoming school year the best it can be!" — Michelle D'Errico Campbell, 7th grade English
Fight summer learning loss
"After the long break, students may need a recap from last year, so focus some back-to-school activities on remediation for last year's skills." — Jessica Wertheim, Chief Learning Officer at Dearest, Inc.
Reflect on last year
"Reflect on what worked well, what needs improving, and suggestions from students/parents provided [through] an end-of-year questionnaire." — Annette Durbin, EdD, The Digital Teacher Blog
Stay updated
"Peruse blogs, LinkedIn, and other sources for trends or ideas to build upon for making the new year enticing for staff and students." — Dr. Aaron L. Smith, The Innovative Catalyst Speaker
Implement bedtimes
Implement a regular bedtime routine 10 days prior to school starting. "When school begins, your child's body, energy, and focus will be prepared for school's physical and mental expectations and demands." — Dr. Fran Walfish, Beverly Hills Family and Relationship Psychotherapist
Gather intel on students
"Creating a classroom environment that supports all learners is the best way to create engaged, successful students." — Colleen Wildenhaus, Founder of Good Bye Anxiety, Hello Joy
Change your mindset
"I let the 'returning' mindset mull around. Then, when I go back into my teaching space, I'm in the right mental space to take off!" — Adam Cole, jazz musician and author
Overall this year, embrace the freedom to teach
"When classrooms are freed from the tyranny of testing and test prep, we have time for project-based learning—so students can analyze problems in their communities, figure out potential solutions, and advocate for change." — Randi Weingarten, President of the American Federation of Teachers
Read the full blog post from Worthington Direct here, and for more great classroom advice, check out our Education and Teaching section!