Should college athletes be paid? People who think college student-athletes should be paid often say the students' names and images are used on products and in advertising, among other things, so they should receive some of the profits. Those who say college student-athletes should not be paid argue that they receive scholarships as a form of payment for their talents. Then there are plenty of other questions: Would athletes be paid differently depending on the sport they play? How do you quantify the true worth of a college sports team, especially if it's making the school much more popular overall and bringing in lots of students? Where would the money even come from? The debate could go on and on. Here's a look at each side.
Why student-athletes should get paid
Being a college student-athlete is a full-time job, bouncing between the weight room, the court/field, classes, and film sessions. College athletics are extracurricular activities, but the schedules of the National Collegiate Athletic Association's (NCAA) tournaments require an extended period in which the student-athletes must miss school. Not only do they miss class, but they are absent for nationally televised games that make a lot of money and receive millions of viewers, according to Marc Edelman in his article "21 Reasons Why Student-Athletes Are Employees and Should Be Allowed to Unionize."
Since student-athletes also bring in revenue for their team and college or university, especially in the championship games, those who debate in favor of paying them say the students could receive a small portion of the profits. Yes, pay would vary, just as the universities with the more successful teams receive more television time or money than those with less successful teams. College football and men's basketball programs earn far more than any other athletic program, so these athletes would likely earn more as well. This may not be considered fair pay, but many of those who argue in support of paying college players point out that team popularity and consumers generally determine what is "fair." These sports also tend to support other less popular sports that do not bring in a lot of money on their own.
Student-athletes are the ones working hard out on the court and field. Coaches might have a big effect on a team, but it is up to the athletes to get it done. Coaches receive bonuses for breaking records, reaching the offseason, and winning the big games; the athletes receive none of it, writes Tyson Hartnett for HuffPost. Most profits from college athletics do not go toward academics. Instead, they go to the coaches, athletic directors, and some administrators, reports Edelman. Student-athletes do not need to receive huge salaries like their coaches; rather, they could still be paid a reasonable amount relative to how much the program makes. Scholarships often cover most of the student-athletes' books and room expenses, but even few extra hundred dollars per year could compensate for the lack of time these students have to earn spending money at a regular part-time job, argues Harnett.
It's also important to note that college student-athletes are not only a part of a sports team; they are a part of the college or university's advertising team. For example, the "Flutie effect" is used to describe a surge in college admission following a big sports win. It's named for Boston College quarterback Doug Flutie; he won the Heisman Trophy in 1984, and the College's admissions rose significantly in subsequent years—though the extent of Flutie's impact has been largely refuted by BC officials since then. Still, colleges and universities use their athletic success to promote their school and entice potential applicants. Student-athletes would be paid for this and all the additional benefits they provide for their schools.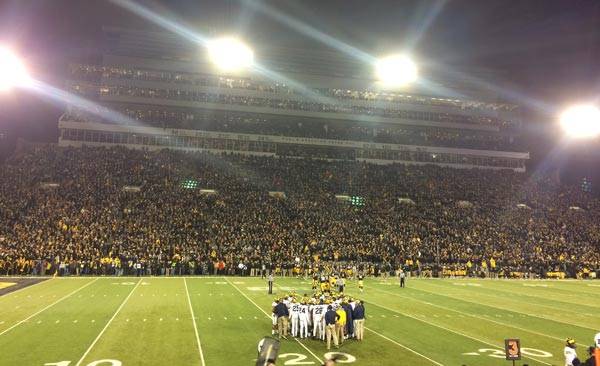 A timeout of the regular season college football game between the University of Michigan at the University of Iowa
📸: Madisen Martinez
Why student-athletes should not get paid
In 2013, survey expert John Dennis found that 69% of the public is opposed to paying student-athletes. (This proposed payment would be in addition to the scholarships given in men's football and basketball programs.) If scholarships were taken out of the deal, and only salaries were given, then it would be more fair and affordable for the university, right? Wrong. If salaries were given, then these college student-athletes would have to pay taxes. Depending on the student-athlete's income, those taxes could be high enough to reduce what they earn until they can barely cover tuition, according to John R. Thelin in his article "Here's Why We Shouldn't Pay College Athletes."
Those who opposed paying college student-athletes say scholarships are the best option; there is no question as to what the scholarship money is going toward. Cash or a salary could be spent on wants rather than necessities, potentially leading the athletes into a debt they would not have with the benefit of a scholarship. Furthermore, those who debate against paying student-athletes say it would change the very nature of college athletics. College student-athletes are given a rare opportunity. It's difficult to earn a position on a college team. Though a dream for many, only about 7% of high school athletes move onto the bigger stage. Another 2% of these athletes reach the Division I level, reports Dave Anderson in his article "Top 10 Reasons College Athletes Should Not Be Paid."
If payments were involved, athletes would be given incentive to commit to the college or university with the highest offer. The next year, they may transfer to another school with an even higher offer. Before you know it, these college sports would be 100% a business. This new "business" could also lead to the downfall of other college programs. The money to pay athletes must come from somewhere, which might put the least-popular college programs at risk of being cut. That, in turn, can deprive other students of their chance to gain the education and experience at the college of their dreams, since their desired program will no longer be offered, says Anderson.
Finally, even though these college student-athletes may be playing at an advanced level, they still aren't playing professionally, Anderson notes. It is not their job to play sports; it is an extracurricular activity that is pursued while pursuing a higher education. Student-athletes are going to school to learn, and many are lucky enough to do so for reduced cost, given the often generous athletic scholarships. If these athletes were paid, it would change their motives as students. They are still in college—which is a privilege in itself—while pursuing their dreams of playing a sport.
What do you think?
Whether student-athletes should be paid is an ongoing debate often brought up during championship seasons, especially the college football playoffs and the basketball post-season. What's your view of this heated debate? Will a salary for college-athletes ever come to be? It's up to the NCAA to decide if they'll break away from their current model of collegiate sports, in which "the young men and women competing on the field or court are students first, athletes second."
Are you a hopeful student-athlete? Start exploring colleges and searching for scholarships for your sport on CollegeXpress now!