Have you ever wondered what it's like to work at the happiest place on Earth? I'm here to tell you it is possible! Back in 2012, I was accepted into Walt Disney World's Disney College Program and became a cast member.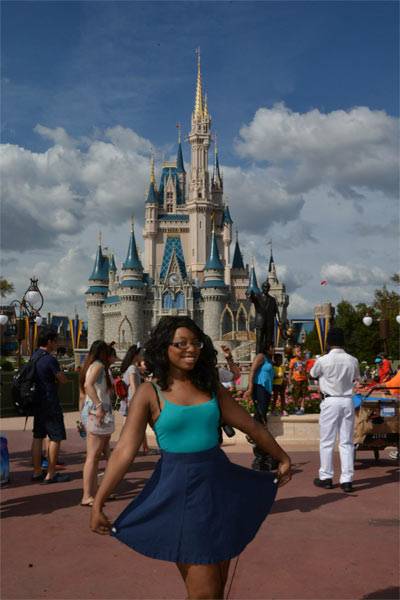 How did I do it?
In 2010, I was starting my first semester of college and my friend told me about the program. It sounded like an absolute dream! Getting paid to work at Disney World and getting in for free all the time? Of course I was in. The first time I applied, I didn't get past round one. I applied again in 2011 but did not get past the third stage of applications. Finally I tried again in early 2012 and was accepted for quick service food and beverage, outdoor foods at Disney's Hollywood Studios. I left for Orlando that May and stayed until December. Housing is provided and fully furnished, and rent is taken out of your paycheck. Busses are provided to take you anywhere you want to go on Disney World property, although you are able to bring your own vehicle with you. Housing throws events and parties for you as well.
Related: Internships: Your Dream Job Driving Board
What the program is really like
On the first day of check-in, you're lined up and you give them information, including where you want to stay and whom you wish to stay with. (There are Facebook groups every semester for applicants, and this is how people tend to find their roommates.) You are then given the key to your apartment, and you find out specifically where you will be working at the parks and resorts. Then you are whisked to Disney casting, where you fill out paperwork, including contracts and direct deposit information. Once that is over, you return and get settled into your apartment with your new roommates. Most use this opportunity to go food shopping and explore outside of the parks and resorts since you don't get free access to the parks until you take your traditions class.
Traditions class is considered your first day of work, and I won't say too much, but this is where you learn about the company and how they expect you to behave. You learn about the company's values and policies, and there are some magical surprises too. This is also where you get your name badge! Once this is over, you begin training at your location, which lasts about two to three weeks. During this time, you are "earning your ears." Once you take and pass your assessment test, you are officially a full-fledged cast member.
During that time I got to work on stage and off, interacting with guests and seeing everything Disney had to offer. I was there when they opened the new Fantasyland and got to meet celebrities visiting the parks, such as Holly Madison and Liam Payne from One Direction. I even danced with Lee Cockerell, Vice President of Hollywood Studios. Even outside the parks opportunities were made. My friends and I got to be in a shooting of Celebrity Apprentice while visiting Universal Studios one day!
During my time working at Disney World, I met people who I'm friends with to this very day, learned a lot about customer service and entertainment, and got to experience so many fabulous opportunities you can only get working for this company. Even after my internship was over, I continued to gain loads of networking and job opportunities just because I have Disney on my résumé.
Related: Types of College Internships and What They're Really Like
How the Disney College Program application works
Applications go out twice each year: one for Fall Semester and the Fall Advantage program, and one for Spring Semester and Spring Advantage. Applications for the Fall Semester are usually available around late January or early February (and late August/early September for Spring Semester). Program dates for Spring Semester start in January or February and end in May or June, while Spring Advantage starts around the same time but ends in July or August. Fall Semester starts in August or September and ends in December or January of the following year, while Fall Advantage starts in late May or June.
To meet the requirements for the programs, you must be at least 18 years old by the time your program starts, have unrestricted work authorization (meaning you have to take a semester off from school for this program), and be enrolled part or full time at an accredited college or university. When you first apply, you have to register on their site. The first step is a basic job application asking for general information. They will ask things like what roles you would want the most or what you would not like to do, your availability, Disney look, etc. All communication is done through email and your dashboard, which is a visual of where you stand in the application process. The dashboard will say things such as "in progress," which means you are okay right now; "in submission," which means your application is currently being reviewed; and "no longer in consideration," which is self-explanatory. If accepted, there will be more, but we will focus on those main three for now.
It's important to know everything is not instantaneous. This process can last anywhere from two to three weeks to two to three months. Usually when you apply you are invited within a few days to take the WBI (web-based interview), which is a standard job questionnaire that you have about three days to complete. Once you are done, they will tell you if you will move on to the last step—the phone interview—or not. If you do pass, you are invited to schedule a phone interview with a recruiter. After this you will wait to hear if you were accepted or not. It generally takes about two weeks to hear back, but sometimes people get pending status, which means they need more time to look at your application. If accepted, you have to pay a $300 fee ($100 for your first week's rent and $200 to pay for housing events).
Other important things to know
There are four apartment complexes to choose from, and you can room with two to eight people.
The apartments have wellness and non-wellness options, meaning you can drink alcohol in one if you are of age, but not in the other.
Rent can be between $94–$112 a week, depending on where you are staying and how many roommates you have.
They have programs at both Walt Disney World and Disneyland and you can apply to both, but you will have to choose one. (Fees and rent are different for Disneyland.)
The Disneyland program provides housing as well, but you have to provide your own transportation.
They have classes you can take that can be used as credit toward your education as long as it is approved by your college or university. At Disney World they are not mandatory, but at Disneyland they are.
Uniforms are provided for you, except shoes.
It's possible to extend your program or even work part- or full-time with the company toward the end of your program.
Related: 5 Strategies to Turn Your Internship Into Your First Job
More experiences from Disney College Program alumni
Betsy
Program dates: January–August 2013; May–August 2015
Roles and locations: Attractions hostess, Haunted Mansion and Tomorrowland Speedway (Magic Kingdom, Walt Disney World)
What made you choose to apply to this program?

For my first program, I applied because I learned about the program in high school and instantly knew it was something I wanted to do! I grew up on Disney movies and TV shows. Going to Walt Disney World for family vacations was normal, but it never occurred to me that it could be someplace I could work. My sophomore year of college I applied and was accepted for the Spring Advantage program in Walt Disney World. That program changed my life and made me realize I wanted to make Disney my career.
Francis
Program dates: February–August 2014
Roles and locations: Quick service food and beverage; All-Star Movies Resort
Do you have a favorite memory working at the parks or resorts?
My favorite memory when I was working was when this little boy came to visit me the duration of his stay and all we would talk about was how excited he was and how he went on all the big adult rides. On his last day, he came to see me personally when I was at the cash register and gave me the biggest hug. He told me I better be there when he comes back next. I'm in Disneyland now, so hopefully he'll remember me if he ever visits the original Magic Kingdom.
Caitlin
Program dates: February–August 2014
Roles and locations: Main entrance operations—admissions at Downtown Disney (ushering at Cirque du Soleil La Nouba and ticketing at DisneyQuest)
What advice would you would give to someone thinking of applying?
Go in with an open mind. Don't let your location disappoint you before you even try it. I was so disappointed that I wasn't in a park, but Downtown Disney ended up becoming the best location for me. You never know how great something can be until you try it.
Have you had a magical internship experience like Victoria and the gang? Tell us all about it on Twitter! And for more content like this, visit our Internships and Careers section.