I am a resident advisor, and sometimes it sucks. Sometimes I just want to break a few rules and not feel like a traitor. Sometimes I don't want to sit my desk shifts or go to countless meetings. Sometimes I don't have time to listen to a girl cry because I have a test the next day. But most of the time, being an RA is the most fulfilling, enjoyable, worthwhile thing I have ever done.
This is my second year as an RA, so I feel comfortable saying I have some experience when it comes to the pros and cons of the job. I have to warn you, though: my school is very different from other universities because it is a small, private Christian university. However, I think that most of these concepts hold true wherever you go. Here are some reasons why you either should or should not apply to be an RA.
Top 4 reasons to apply
1. You want to change lives
Some of you just read that line and are laughing, but I'm totally serious! RAs have the chance to change their residents' lives either for better or worse. Sure, you aren't going to transform an alcoholic into a saint in one interaction, but you can be that person to give encouragement or even harsh love where it is desperately needed. As an RA, you set the bar. Unfortunately, that means you can set it low too. I know some girls who struggled with anorexia because their RA freshman year made them feel insecure about their eating habits. But if you feel like you are ready to positively set the tone for your floor, then the resident advisor program may be for you.
2. You love to be social
One of the RA's primary responsibilities is building community on their floor. That means they get to be social! If you are a creative, fun, outgoing person, then being an RA will probably come more naturally to you. However, just like there are different types of people, there are also different types of floors. Quieter floors need someone who will value rest and studying but who will also make sure that the floor has a positive atmosphere. If you are ready to meet the needs of the floor, then pick up an application.
3. You aren't afraid of confrontation
I hate confrontation. I loathe causing it even more than I dislike being on the receiving end. However, it is my job and I do it because I want the person I am confronting to walk away better. I want them to become the best version of themselves they can be, and I know that letting them get away with things that ultimately hurt them is no help at all. If you are willing to play hardball and say what needs to be said (in a kind way), then you just might be ready to become an RA.
4. You need mentorship
During my freshman year, I felt like I had no true guidance in my life. My parents were over a thousand miles away, and the main relationships in my life were all peers. However, when I became an RA that all changed. Suddenly I was accountable to a Head RA and Hall Director who actually cared about me and wanted me to succeed. They were by no means parental figures, but they provided guidance and support where it was missing. If you need more mentorship in your life, the RA program may be able to help you out.
Top 4 reasons to not apply
1. You like sleep
I cannot count the number of hours of sleep I have lost because of the RA program. Between night desk duties, late meetings, and residents in need, I have sacrificed many, many hours of sleep for the job I love. If you cannot function on low levels of sleep, you may not want to be an RA.
2. You don't like people
This isn't a joke. The only thing that gets me through the harder days is my love for the people I serve. If you don't have a general liking of the human race, you would hate being an RA.
3. You hate rules
I don't think anyone really loves rules, but one of the primary functions of being an RA is to enforce them. If you can't even follow the rules yourself, how will you ever make others do the same? I don't enforce rules because I think the rule is necessarily important. Sure, some of them totally are, but that isn't why I follow through and try to make them happen. I enforce them out of respect for my university and those in leadership positions above me. If you can't follow the rules, you are not right for the job.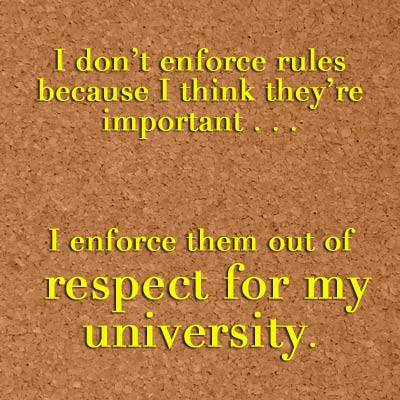 4. You like to stay in the background
Becoming an RA puts you on display. You are constantly watched by anyone who knows you hold that title. Suddenly who you are and how you act says something about the program you serve. I could not stand that at first. I just wanted to be a normal resident again and not have the pressure of being perfect all the time. Eventually I learned that perfection is unattainable and I would rather everyone know who I am than try to pretend I have my life together. If you are not ready to be a topic of conversation, then you might want to hold off on submitting your application.
Being an RA is a challenge. It pushes you and makes you become more than you thought was possible. It isn't always fun, but in my opinion it is worth every second. And it isn't for everyone, but I am so grateful for who I am becoming thanks to the RA program.
Any other RAs out there? Let us know how you like it in the comments!