Getting into the Ivy League as an international student is like trying to run a marathon while wearing a backpack filled with bricks—it's hard enough to run 26 miles, but doing it while weighted down feels impossible. But here's a secret: Ivy League universities need more international students. International students are often asked to, and are more capable of, paying full tuition for university. But that doesn't mean admission will be easy. However, it is possible, and if you've decided an Ivy League university is your best fit, we're here to help. In the first part of this three-part series, we've compiled a comprehensive review of all the requirements, tactics, and tests that international students need to know about in order to secure a spot at one of the United States' most selective and prestigious schools: the Ivy League.
So you want to attend an Ivy League school…
First, make sure this is something you really want. Many students say they want to go to Harvard University—and why not? It's a world-renowned school. But the better question is: Why do you want admission to the Ivy League in general, and are you willing to work for it?
There are many reasons why you may wish to come to the United States to study. Perhaps your motivation is intellectual, and you're seeking the best education you can find. The US has most of the world's highest-ranked universities—the Ivy League included—and your desire for knowledge would be met. Perhaps you're seeking the best networking options in the world. The Tier 1 US schools are attended by the children of presidents, future CEOs, and the progeny of billionaires. There could be no better networking option on Earth than admission to an Ivy League school. Or maybe you're driven by career success and looking to land an elite finance job or entrance to elite medical or law schools. The Ivy League funnels graduates into all of these fields, and your chances of achieving these goals will improve with admission.
Whatever your reason for seeking Ivy League admission, your motivation should be real and your work ethic has to be fierce because the odds are daunting—and the path to admission is lined with an arcane application process. The process of applying to university is confusing and stressful even for domestic students—for international students, it's doubly so. Not only may the requirements and time frame be different from what's typical in your home country, but US schools may value and look for qualities in prospective students that universities in your homeland don't.
Related: 4 Myths About the Ivy League and Selective Colleges
The difficulty level of getting into the Ivy League
Not only is the application process generally more confusing for international students, but it's more difficult for international students to get accepted to an Ivy League university. In the Ivy League, no school has an overall acceptance rate of over 10%, with most averaging 7%. These schools generally don't report the number of international applicants they receive every year, making it difficult to establish a concrete international student acceptance rate. However, we've done a bit of digging to provide what we feel are highly accurate figures.
Admission rates for international students getting into the Ivies
In all honesty, this rate is about 5%. We found actual admission numbers for international students for three of the eight Ivy League institutions: Princeton University, University of Pennsylvania, and Brown University. Some were from the most recent class, while others were more dated. In each case, we compared the figure to the overall admission rate of the school and found them to be 2%–4% lower. For the five schools that haven't reported on international applicants and admission, we subtracted 2% from their overall admission figures to arrive at the international admission number.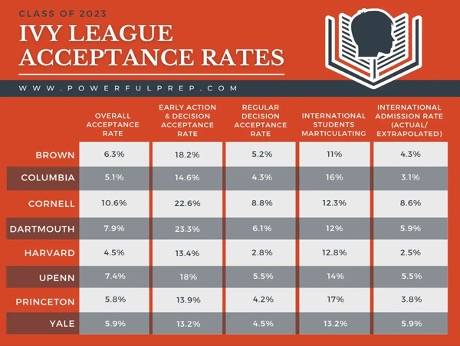 Please note: At the time of this article, admission statistics for the Class of 2024 were not completely released, and Cornell University had withheld admission statistics relating to overall and Regular Decision acceptance rates for the Class of 2024. Brown University's reported data here was calculated using overall acceptance [total applicants] international student percentage/international student applicants. The last year Princeton provided data was 2006, when the international admission rate was 6.3% (4% lower than overall admission). The University of Pennsylvania reported in 2019, and information is approximated based on 2% lower than overall admission.
This 5% average acceptance rate ranges from our estimated 2.5% at Harvard to 8.6% at Cornell. While that might sound undaunting—at worst, one out of 40 odds—it's actually very difficult given that only the absolute best of the best are in that applicant pool. While American students are competing against the best students from other high schools in the US, international students would be competing against the best students from other countries.
Related: University Search: Beyond Rankings and Brand Names
You're here because you want to become part of the select few who open an acceptance letter to an Ivy League university. The first step to being a successful international applicant is to begin thinking about the necessary requirements for applying and the narrative your academics and extracurriculars will paint of you as soon as possible. Stay tuned for part two of our series on international students and the Ivy League to learn how to begin planning and organizing a timeline and preparing your best application possible.
We have a ton of advice on CollegeXpress for students from other countries looking to attend university in the US in our International Students section. Check it out!