One of my favorite trips this year took me just an hour's drive from the US border—or a quick two-hour flight from Atlanta—to a city with architecture that has a distinctly European feel (a reflection of the city's strong Scottish and French heritage) and sidewalk cafés dotting the streets. This is Montreal, the largest city in Canada's province of Quebec and one of the most distinctive travel destinations in North America. With excellent options for higher education, it's also the perfect city for a college student. Here are five reasons why.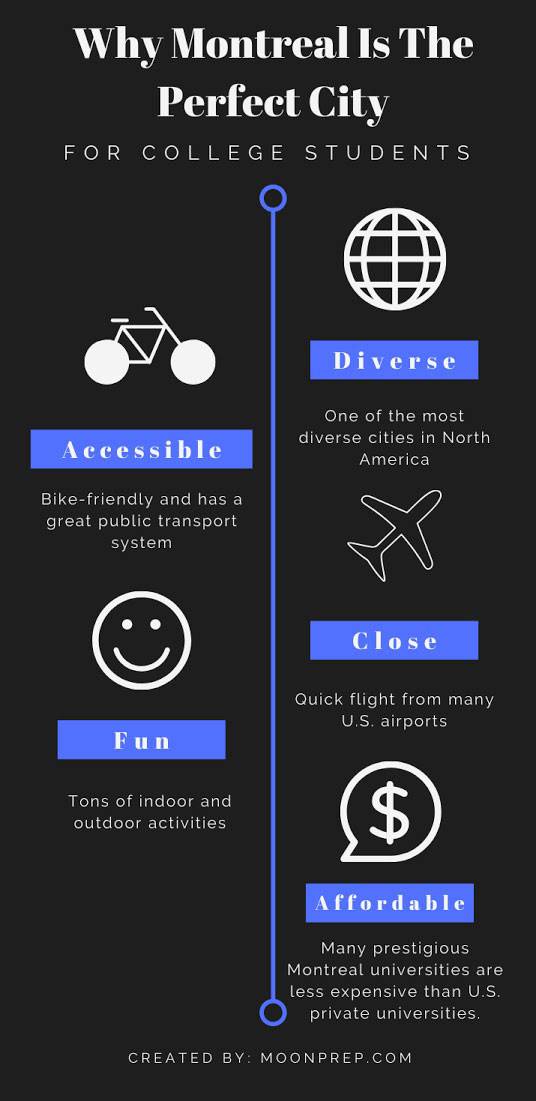 1. An identity of diversity
Montreal is one of the most diverse cities on the continent, with one in every four residents of the Greater Montreal area being an immigrant. Quebec is a French-speaking province, but 55% of the population is bilingual in French and English, so you'll get around just fine if English is your only language. Two of the city's top universities use English as the primary language of instruction. McGill University is ranked as one of the top universities in the world and has produced 12 Nobel Laureates, and Concordia University—the largest university in Canada by enrollment—boasts the prestigious John Molson School of Business. And if you do want to learn French, there are ample opportunities to do so. Quebec's Ministry of Immigration offers free courses both in-person and online.
2. No car? No problem
Even if you aren't able to bring your car to Montreal, the city has ample ways to get around. Montreal has 400 miles of bike paths, making it a relatively easy city to navigate on two wheels. There's also a robust public transportation system with a four-line subway system and bus routes that crisscross virtually every part of the island.
Related: 3 Ways to Live Sustainably on a College Campus
3. Close to home
As mentioned before, Montreal can give you a cosmopolitan cultural experience while keeping your home base within arm's reach. It's within driving distance of much of the northeastern United States—roughly a six-hour drive north from New York City—and you can hop on quick flights from many major airports.
Related: Video: College in Canada
4. You won't be bored
McGill and Concordia are both demanding universities, so your studies will take up the bulk of your time in Montreal. But when you want a break or a quick weekend getaway from school, Montreal has countless opportunities for fun. You can explore the city's many delicious food traditions, like the famous poutine; take in one of the excellent museums, such as the Biodôme; or, if the weather is nice, take a jaunt over to Parc Jean-Drapeau, Mount Royal Park, or La Ronde, an amusement park operated by Six Flags.
5. A city with it all
This might be the best part about Montreal and its universities: You can get the excellent education and rich cultural experience for much less than you'd have to pay for a private university in the United States. McGill's annual tuition for a Bachelor of Arts during the 2019–2020 academic year is just over $18,000, and Concordia's cost is around the same.
Related: What's It Like? An Inside Look at College Life in Canada
A cosmopolitan feel, endless opportunities for fun and cultural enrichment, and excellent, affordable education to boot. Montreal really might be the perfect city for college students.
Find your university abroad using our College Search tool.