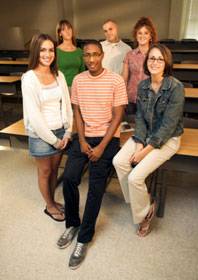 When first-year students get to their college for the first time, many are overwhelmed by numerous aspects of college—one likely being the diversity on campus. Whether this means getting to know a lot of people with different, diverse backgrounds, or joining a club to learn more about a culture or ethnic group, students may lose sight of fully taking in the diversity at a school to its full potential. Below are six ways that I've come up with for students to make sure they're getting the fullest experience of diversity on their campuses. Who wants to miss out on something as great as diverse people, activities, clubs, food, ideas, and more?
1. Join a club
Simple as that—join any club or organization your school offers that sparks your interest. This will allow you to learn a lot about different people, teacher advisors, faculty, and so on. That doesn't mean you have to join a club specifically targeted towards a certain group, such as organizations focused on certain ethnic, racial, or cultural backgrounds. Even joining a club as simple as the equestrian club or working on a theater show will allow you to meet such different people from diverse backgrounds.
2. Take a class you wouldn't normally take
Aside from the basic science, math, history, and writing classes you may be required to take, take classes outside your general education requirements or your major. You'll learn so much more about the world that you may not have known beforehand. Take a cool religion class that's different from your own worship, or take a sociology class about sexuality. Schools offer hundreds of courses, and these interesting, insightful classes are always at your disposal!
3. Take a language
This somewhat falls under the section above, but if you have the opportunity to take a language, do it! Whether it's a popular language like Spanish or French, or something a little more unique like Chinese or Greek, you won't just learn a language, but you'll learn about the country and its culture. And, as always, you'll meet new people!
4. Explore your college town or city
No matter what the school setting, students should get to know the town or city their school is in. Go to museums (most have student discounts!), walk around, and learn about the history of the school. You'll learn new things about where you will (most likely) be spending the next four years of your life and learning about history and local culture at the same time.
5. Get to know your professors
Professors at colleges and universities come from all over the country and the world. Getting to know your professors will not only help you learn a lot about them and their backgrounds, ideas, etc., but it will give them a chance to learn about you! Professors love getting to know their students, so take time to visit them outside the classroom.
6. Attend events on campus
Like exploring your college town or city, it's important to take part in the different events that occur on campus, whether they're educational, cultural, religious, etc. From guest lecturers to movie screenings to seminars, the topics vary and help to educate you on different matters. Schools obviously want to make your educational experience the best it can be, and planning these events only helps with that. Check your school's website to find their calendar and see what fun and enlightening events they have planned for the student body!