You wouldn't buy a car without a test drive. You wouldn't purchase a home without going to the open house. You wouldn't marry someone without spending some time together first (unless, maybe, you were on The Bachelor). Why should choosing a college be any different? College is a major investment, and the only way to really know if you've found the right fit for you is to see it in person. That's why campus visits are such an important piece of the college search puzzle. Only now we've found a way to make it even more fun…
Go on our Campus Visit Scavenger Hunt!
Below you'll find our official Campus Visit Scavenger Hunt map. Okay, we know your college campuses won't look exactly like this, so don't take it too literally. (You might get lost!) But the buildings and landmarks listed can be found at practically every college—and they're all places you should try to see during your visits. Take the map along on your next campus visit and check off all the stuff you can find. We've also included questions to help you learn more about your colleges; use them as a guide to talk to students, professors, and staff at each stop.
Important stops
These are all the essential buildings and areas to check off on your campus visits! You'll find more details on the map, but here is a helpful introduction to each landmark. So you can make your quest a success:
Student union: The hub of campus life. Could also be called a hall, center, or commons.
Library: Students may be busy here, so be sure to respect the quiet.
Dining hall: Depending on the size of the school, there could be one dining hall or several. Try to have at least one meal on your visit!
Dorms: They're sometimes scattered all over campus, so focus on where you'll be living as a first-year student if you're in a time crunch.
Academic buildings: These may also be all over campus, so center your attention on your future major department's headquarters if you have a program of interest.
Athletic facilities: If there's a game going on while you're visiting, go!
Recreation and fitness center: See if there are some classes, rec clubs, or exercise equipment you enjoy, since most gym memberships are included in your tuition and fees.
Administrative offices: You don't have to visit all these buildings, but you should try to meet with an admission counselor so they'll have a face to associate with your application.
Health facilities: Hopefully you won't be spending a lot of time here, but it's important to know where they are just in case.
Career center: This place is not just for seniors! You should make the career center one of your first stops when you start classes.
Auditorium or performance center: Check out all those flyers at the student union to see if there's a concert, lecture, or student production going on while you're visiting.
Campus mall or quad: There will be plenty of students hanging out here if you visit during the school year, so don't be shy—introduce yourself and ask them a few questions!
Bonus finds: See the map for details. You won't find these on every campus, but we'll give you extra points if you do.
The official Scavenger Hunt map (click to download)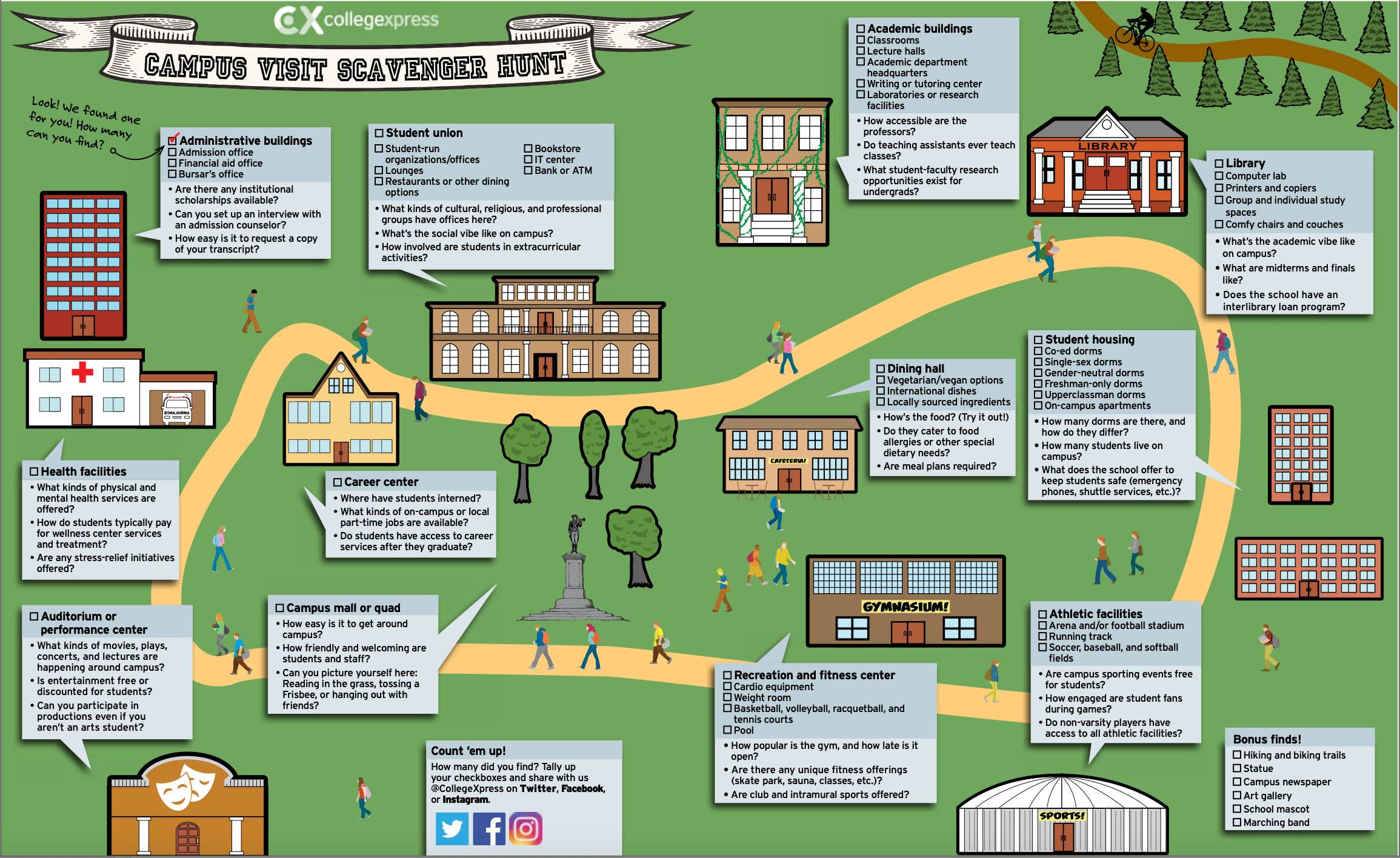 Related: The Best Ways to Make Your College Campus Visits More Fun
Let us know how it goes!
We want to know how much you found on your Campus Visit Scavenger Hunt! Get in touch with us and let us know how you did. You never know—you just might win a little something for your effort. We hope this new spin on the campus visit makes for a fun, informative day at your prospective schools. Good luck, and let the games begin!
Have you followed us on social media yet? We're on Twitter, Facebook, Instagram, Pinterest, LinkedIn, and YouTube @CollegeXpress. Connect with us!