Why are campus visits so important? For all the online research and virtual tours you do, there really is no better way to get a sense of how you truly feel about a school until you step foot on its grounds. It's an invaluable opportunity to get a sense of what your life will be like as a student there. You will have a gut reaction, and that's something you just can't get anywhere else.
Here you'll find a basic list of campus hotspots you should try to hit on any campus visit. You might see them on your formal tour, but if not, go exploring on your own if you can! Talk to students, professors, your tour guide, admission staff—anyone you can. You could also take advantage of meeting with an admission counselor for an interview. You don't have to ask all of these questions in one visit, but you should make an effort to determine the answers over time, whether during visits or through further research.
Download and/or print this handy PDF! Click to enlarge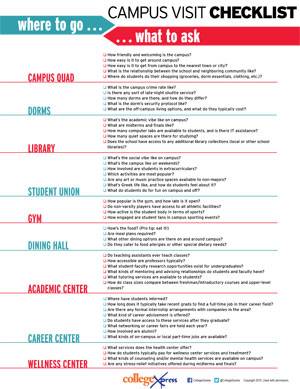 Here are the questions again, in case you need them!
Campus quad
How friendly and welcoming is the campus?
How easy is it to get around campus?
How easy is it to get from campus to the nearest town or city?
What is the relationship between the school and neighboring community like?
Where do students do their shopping (groceries, dorm essentials, clothing, etc.)?
Dorms
What is the campus crime rate like?
Is there any sort of late-night shuttle service?
How many dorms are there, and how do they differ?
What is the dorm's security protocol like?
What are the off-campus living options, and what do they typically cost?
Library
What's the academic vibe like on campus?
What are midterms and finals like?
How many computer labs are available to students, and is there IT assistance?
How many quiet spaces are there for studying?
Does the school have access to any additional library collections (local or other school libraries)?
Student union
What's the social vibe like on campus?
What's the campus like on weekends?
How involved are students in extracurriculars?
Which activities are most popular?
Are any art or music practice spaces available to non-majors?
What's Greek life like, and how do students feel about it?
What do students do for fun on campus and off?
Gym
How popular is the gym, and how late is it open?
Do non-varsity players have access to all athletic facilities?
How active is the student body in terms of sports?
How engaged are student fans in campus sporting events?
Dining hall
How's the food? (Pro tip: eat it!)
Are meal plans required?
What other dining options are there on and around campus?
Do they cater to food allergies or other special dietary needs?
Academic center
Do teaching assistants ever teach classes?
How accessible are professors typically?
What student-faculty research opportunities exist for undergraduates?
What kinds of mentoring and advising relationships do students and faculty have?
What tutoring services are available to students?
How do class sizes compare between freshman/introductory courses and upper-level classes?
Career center
Where have students interned?
How long does it typically take recent grads to find a full-time job in their career field?
Are there any formal internship arrangements with companies in the area?
What kind of career advisement is offered?
Do students have access to these services after they graduate?
What networking or career fairs are held each year?
How involved are alumni?
What kinds of on-campus or local part-time jobs are available?
Wellness center
What services does the health center offer?
How do students typically pay for wellness center services and treatment?
What kinds of counseling and/or mental health services are available on campus?
Are any stress-relief initiatives offered during midterms and finals?