Welcome back to campus, and welcome to spring semester 2022! You likely had some fun during winter break, spending time with family members and old friends who you haven't seen for a while. Did you hear any stories about people's school or job experiences? Has it inspired any new things you want to try for professional development in 2022?
A great place to start is LinkedIn. I have some helpful tips and insights on how to build your LinkedIn profile and grow your network with necessary elements like a professional headshot, a compelling summary, work and education experiences, and details like endorsed skills, recommendations, courses, and more. Let's get started.
Use the new profile picture frame
The LinkedIn profile picture frame is a free and relatively new feature to the site. You can easily add an #OpenToWork frame to your headshot to let recruiters, school alumni, and hiring managers know you're open for new job opportunities. It's not only self-explanatory, but it tells whoever views your profile that you have a carefully maintained and updated account. Meanwhile, you can also look for LinkedIn members whose profiles have a #Hiring hashtag and send a connection request—just don't forget to add a personalized note when you do so.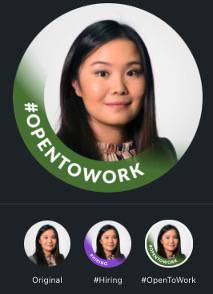 Related: How to Be Smart When Building a Strong LinkedIn Profile
Take advantage of the customized search
Let's start with those people whose profiles have a #Hiring frame: How can you locate these members on LinkedIn in an efficient way? Like any other good website, LinkedIn has a powerful search feature that can be customized to meet your goals.
Input your keyword in the search box, and from there, you can ask for all results or specify the query to return results only for individual categories like people, jobs, companies, schools, and even posts. People and jobs are usually the most popular ones. Within the people category, you can further filter down to locations, current company, previous companies, school and more. For instance, I searched #Hiring and narrowed the results down to LinkedIn members who graduated from one of my alma maters, the University of Illinois at Urbana-Champaign. To my surprise, there were roughly 10,000 results! And of course, I could easily add more filters like location or connections (second or third degree) to refine the list and prioritize.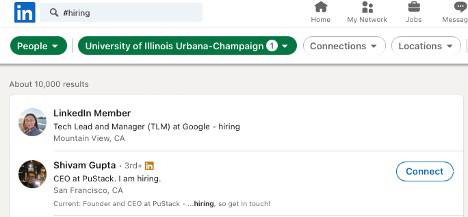 Always be open to new conversations
LinkedIn doesn't have a standalone mobile app for messaging. After all, people don't message too often for professional networking. If you have a basic free account, which is often the case for students, you can only send messages to LinkedIn members you've already connected with. If you need to directly message another LinkedIn member that you're not connected to, you'll have to pay for a premium account and use the InMail messages, which allows up to five InMail credits per month for starters. LinkedIn sometimes offers more months for free trials or a lower monthly rate for student subscribers.
While it's more expensive to make the effort to contact potential networks you don't know, you can make it easier and free by letting people reach out to you. By turning on the feature of "always open new messages," people who aren't connected to you don't need a paid account to send you InMails—they could be your college's alumni, hiring managers, or another fresh graduate like yourself. In addition, you can enable the messenger to show your active status or allow new message notifications. All features can be adjusted individually; you just need to spend some time navigating your settings to find what works best for you.

Related: How to Start Networking: Top Tips and Tricks
Pay attention to relevance
You may feel a bit confused by the term "relevance" at first, but it's the most appropriate word to explain the "people you may know" (PYMK) and "people also viewed" featured. PYMK helps members grow their network by recommending new potential connections. It's one of the most recognizable features on LinkedIn; in fact, according to a LinkedIn Engineering blog post, PYMK was invented for LinkedIn and is responsible for building more than 50% of LinkedIn's professional graph. The PYMK module can be integrated in any profile via the My Network page or sometimes through LinkedIn new connection request or confirmation emails. Similarly, "people also viewed" is another useful feature, which makes connection recommendations based on the current member profile you're viewing.
The recommendation algorithm for these features is evolving all the time, but relevance is always key: relevance of education and work experience, network of connections, and social data profile views and engagements (likes, comments, and shares). For career starters like college students and recent grads, these features could make huge impacts on your professional network growth and increase your own relevance in relation to your career and networking interests. But be cautious when picking your connections, especially with those whom you don't know in person. If you choose smartly, you'll be in a positive feedback loop powered by the connection recommendation features and reach your networking goals effectively (and likely more quickly).
Build your professional presence everywhere
After you've created and enriched your professional profile on LinkedIn, there are a few things you can try to give it more visibility and share it everywhere you need. To start, it's a good idea to create a customized URL for your profile, like your name or your work email username. This not only makes your profile more memorable and input easier but also improves your profile's SEO ranking when people search a string that's unique to you.
You can also make some adjustments to your public profile settings by adjusting the visibility of each module of your profile: your profile picture, headline, experience details, etc. These are all under the "visibility of your profile & network" section of your Settings & Privacy. A LinkedIn public profile badge is also a great idea for career starters if you have an online résumé, website, or personal blog. Just copy and paste the pre-generated code from LinkedIn into your other platform and you can show your professional presence everywhere you need to.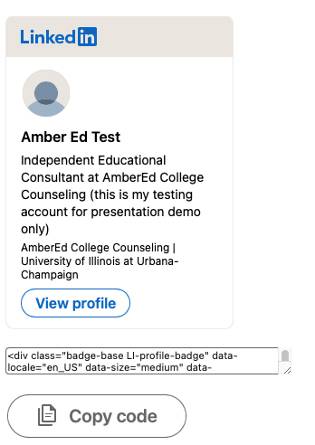 Related: How to Establish a Professional Online Presence
After reading this advice, hopefully you have some ideas on how you're going to create and optimize your professional profile and grow your network on LinkedIn in the new year. Pay attention to details on your account settings and choose what you're most comfortable with in your privacy settings. Beyond that, be open, sincere, and proactive. I'm sure you'll achieve your New Year's goals as a career starter!
Ready to build your network? You can start by following CollegeXpress on LinkedIn to keep up with all our latest content. And if you're looking for more great ways to utilize the platform, check out the first two articles in this series: How to Use LinkedIn Data to Build Your College List and How to Network With Your College's Alumni on LinkedIn.