For college students, any time is a good time to prepare for your future career by updating your résumé and LinkedIn profile, rethinking the connection between your coursework and desired job skills, networking with university alumni, and possibly seeking out internships or jobs—but winter break is certainly a great option. If you're a current university student who's actively looking for an internship or job—or if you're just interested in learning about career outcomes of graduates from certain universities as a prospective student or even a parent—you've come to the right place.
LinkedIn's Big Data and Share More tools allow you to research universities and their alumni on a network of more than 750 million global users. On each member's profile, you could find educational information like alma mater, major of study, and graduation years as well as career outcome data like companies, job titles, and skills. We'll use the LinkedIn University Page of the University of Connecticut (UConn) as an example, plus share some knowledge and tips for students and alumni to better navigate this professional networking platform.
The LinkedIn university page
If you've read my previous article on How to Use LinkedIn Data to Build Your College List, you'll be familiar with LinkedIn company pages like Pratt & Whitney's or Cigna's. University pages (UPs) on LinkedIn are similar to their company page counterparts, with the member data aggregation on UPs being based on members' alma maters instead of their current employers. LinkedIn created such UPs using massive user-supplied data. Most UPs are adopted and managed by social media staff at each university, so you can find recent posts and job listings on active UPs. While most content on a UP is managed by page admins, "Alumni Insights" under the Alumni tab are the exception. And this user-supplied career outcomes data is exactly what we're going to dive into today.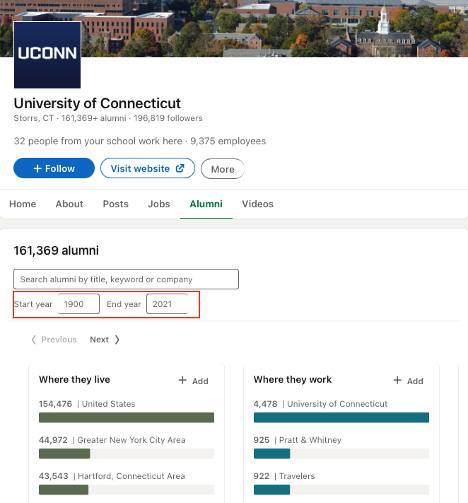 Screenshot via UConn's LinkedIn university page
Related: How to Be Smart When Building a Strong LinkedIn Profile
The importance of recency
Once you start to explore the alumni career outcomes data on LinkedIn, it's easy to feel overwhelmed. For a public flagship like UConn, there are over 160,000 alumni on LinkedIn, some of whom graduated decades ago and are now retired. It's helpful to start by putting values on the start and end year boxes so you can find young professionals who'll share the most similar experiences with you and bring updated knowledge.
There are some interesting findings if you compare alumni of all time and recent alumni in the new millennium. As indicated by the chart below, we not only get to know a few regions where UConn graduates have the strongest alumni ties domestically but also in regions like New London/Norwich, which could be a good starting point for junior professionals.
Top 5 regions where UConn alumni currently live
(all time, as of December 2021)

Greater New York City area: 44,972

Hartford area: 43,543

Greater Boston area: 14,152

Washington, DC Metro area: 3,385

San Francisco Bay area: 2,349

Top 5 regions where alumni currently live
(as of December 2021; started at UConn since 2000)

Hartford area: 30,131

Greater New York City area: 29,016

Greater Boston area: 8,468

New London/ Norwich area: 3,286

Washington, DC Metro area: 1,735
Break down alumni groups by location and major
There are six panels on the UP Alumni tool to slice and dice member data: where they live (location), where they work (current employer), what they do (current job function), what they studied (major/field), what they are skilled at, and how you're connected. For career starters, location and major of study are the most straightforward and relevant filters.
As an example, UConn Business students are more likely to find internships or jobs at insurance companies like Travelers, The Hartford, Aetna, or Cigna in the Hartford area—after all, Hartford is called the "Insurance Capital of the World.'' Pratt & Whitney is another popular employer for students in such majors even though it's an aerospace manufacturer, thanks to its headquarters in a local town. However, for the same group of Business students, the New York City or Boston areas are top destinations, making the most popular employer list totally different with offerings of financial service companies like Deloitte, PwC, Liberty Mutual Insurance, and even investment banks like Morgan Staley.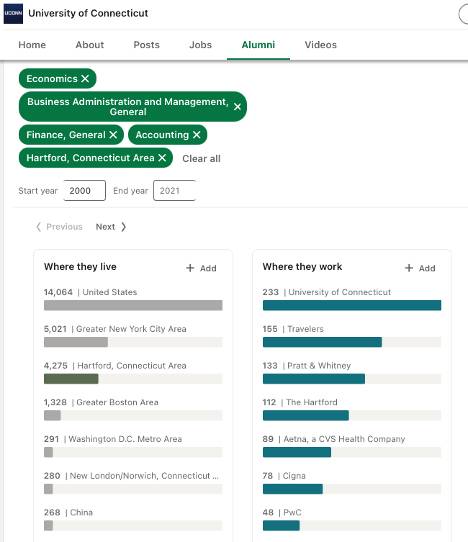 Screenshot of UConn's university page Alumni tool
Related: 4 Easy Networking Strategies for Online Students
Affiliated pages
One question people ask frequently about LinkedIn UPs is regarding the pages of professional schools and the relationship regional campus pages have with the parent UPs. This is a great question to ask, and fortunately LinkedIn has tried its best to provide answers. LinkedIn calls pages of such professional schools or regional campuses "affiliate pages" and creates a module to host them on UPs. For UConn, there are five affiliate pages, which include two regional campus UPs and three professional school UPs. When a member puts UConn Stamford as their alma mater, their educational input data will be included in the Alumni tool for both the UConn parent page and the UConn Stamford UP.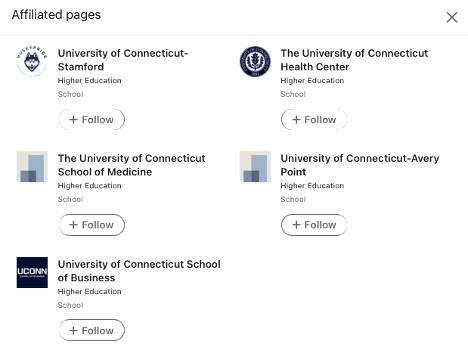 Screenshot via UConn's Affiliated Pages tool
Affiliated pages could be handy and refined tools to pinpoint the target group of alumni with shared characteristics. For instance, we looked at the four majors of Finance, Accounting, Economics, and Business Administration to represent business-related majors for the search, but there are so many that we could hardly include all of them. With the UConn School of Business affiliated page, you don't even need to bother using the major of study filter because all members shown on this page majored in Business.
Related: 6 Grad School Networking Tips for New Professionals
Your high school's page on LinkedIn
We've talked a lot about your college's alumni, but there are other effective alumni networks you can utilize on LinkedIn. More and more members are including their high school in their LinkedIn profile educational experience. Therefore, there are school pages similar to university pages for high schools, which are considered as primary or secondary education pages. If you're interested in finding an internship outside the most popular regions or companies among your college alumni, check whether you have any high school alumni on LinkedIn who could help you.
For instance, the high school page for the Loomis Chaffee School on LinkedIn has a smaller amount of alumni than most of the UPs, but these are usually members who are proud of their high school experiences, and they're more likely to talk about their college and career journey to younger high school alumni like you. As a college student, don't be shy to brag about your high school experience on LinkedIn.
How you are connected
We've talked a lot about how to find the right alumni on LinkedIn. It's a professional networking platform, so don't just read the aggregated data insights or view the member profiles—use this platform to actually connect with your school alumni. Go to the third screen of the Alumni tool and find out how you're connected to your school's alumni from the last panel. LinkedIn defines your network by members within three degrees of connections. See who you've already connected by clicking "1st." The more first-degree connections you have from your alma mater, the bigger your alumni network could grow!
However, second-degree connections are usually the best starting points to expand your network. Start checking on those who have more shared connections with you. Use the handy "Connect" button on each member profile card to send a request with a single click. However, it's highly recommended you take a close look at their profiles and write personalized notes beforehand. This shows your genuine interest and professionalism and will yield a high acceptance rate in return.
Related: A Helpful Guide to LinkedIn for High School Students
We hope you learned something new about how to use LinkedIn to your academic and professional advantage, but more importantly, start using this advice and these tools today. There's no better time to build your network and your résumé than the present. Good luck!
Learn more about connecting with alumni using the "networking" tag to find more blogs and articles like this. You can also connect with our example school—the University of Connecticut—by clicking the button below.