It's college application season again, and college-bound students are starting to get busy adding schools to their college lists. Every student has their own approach to research and exploration—U.S. News & World Report rankings, Fiske Guide, online college search tools like BigFuture or CollegeXpress, counselors' recommendations, college fairs, info sessions, campus visits, and more.
Most of the above-mentioned resources make recommendations based on what you have today—factors like your high school academics, extracurricular involvement, and test scores as well as preferences on school location, culture, activities, and financial aid. Yet none of those consider your future, just your present. What if there was a tool that could recommend colleges based on your desired future career? Lucky for you, there is! We're going to talk about "feeder schools" and a useful tool you may never have thought of to find them using a deep-dive example with a popular company: Apple.
What are feeder schools?
You may often hear people say that boarding school X or magnet school Y is a "feeder school" for Ivy League colleges and universities. "Feeder" refers to when you group students by their high schools, count the total number of students from each high school, and find that X and Y schools rank on top of the list for sending the most students. Thus, they're called feeder schools for those colleges. Students typically want to attend feeder secondary schools to increase their chance of being admitted to their desired selective colleges—or in this case, attend feeder colleges for certain careers.
Example: Feeder schools for Apple designers
For a career-oriented college applicant like you, it can be helpful to learn which institutions are feeders schools for your dream companies. Let's take a student who's highly interested in studying Design in college and wants to work for Apple after graduation. After all, who wouldn't want to work for a company like Apple, which creates designs that instill "pride and ownership"? So what can that student do now to attain that goal? They can find which colleges and universities have the most alumni who work in art and design at Apple. To do this, let's use a magic tool: the LinkedIn company page.
How to use a LinkedIn company page
LinkedIn is a well-known platform for job seekers and professionals. It has over 750 million members globally and therefore generates the largest professional profile inventory in the world. For each member's profile, you can find educational information like alma mater, major of study, and graduation years as well as career outcome data like companies, job titles, and skills. When LinkedIn aggregates and summarizes each individual member's educational input and career outcome data—which covers more than 750 million members and over 57 million companies—it provides insights beyond your imagination. To make things even better, such information is open to every LinkedIn member for free!
A deep dive into Apple's company page
Let's go back to our Design major and which universities have the most alumni who work in art and design at Apple. On LinkedIn, if you go to Apple's Company Page using the search bar and click the People tab, you can use a search to apply title, keyword, or school filters to find employees. In my example, I found that there are 3,348 Apple employees who do art and design work specifically at their San Francisco Bay Area sites, where Apple's headquarters is located. The top five universities represented among Apple employees are Stanford University (198); San Jose State University (141); University of California, Berkeley (137); San Francisco State University (85); and Academy of Art University (75).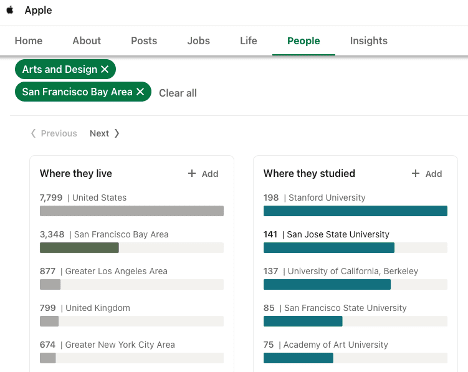 Screenshot via Apple Inc. LinkedIn company page
You probably won't be surprised to see Stanford and UC Berkeley, but what about San Jose State University and San Francisco State University? Those obviously aren't big names nor highly selective, but clearly they teach fine designers who meet Apple's recruiting standards. Academy of Art University (AAU), a proprietary school, is also a strong feeder school for Apple thanks to its 20+ schools offering all subfields of arts and design, a world-class education, and strong industrial ties.
Related: Great Colleges and Universities for Visual Arts in the Midwest and West
How to get more accurate and relevant search results
If you're thinking of giving it a try and searching for your own dream companies on LinkedIn, here are some considerations and suggestions of how to get more accurate and relevant search results.
Always make location a factor
Choose your desired region with the "Where they live" panel on the People tab of each company of interest's page. It could be an overall country like the United States, a specific city like London, or even a metro area like the Greater New York area. This filter will drastically change the number of employees and the list of feeder schools you'll find.
Use the typeahead feature when you search
If you're looking for something not showing up with a basic search, add the missing keyword to your current search by clicking on the "+ Add" icon next to any of the categories, as shown in the screenshot above. Using the typeahead function, you can pick what you need from the dropdown menu. For instance, if you want to search for Facebook employees in Singapore, go to the "Where they live" panel and click "+ Add," type the first few letters of Singapore, and find it in the dropdown. LinkedIn does data standardization on top of member-supplied data. Therefore, your series of actions will tell LinkedIn to only show employees currently living in Singapore, not those who attended schools in Singapore but currently work elsewhere, nor those who put the word "Singapore" somewhere on their LinkedIn profiles.
Related: How to Be Smart When Building a Strong LinkedIn Profile
Understand the relationship between majors and job functions
The "What they do" (job function) and "What they studied" (major) panels can surely hook you up for a while with information and further research to do, but while they're obviously related, it's not always in the way you think. For instance, the top major for HR at Apple US is Business Administration and Management instead of Human Resources Management like you might expect. Psychology, Marketing, and even Computer Science are popular majors for Apple HR. Meanwhile, Apple US employees who once studied Human Resources Management aren't necessarily working in HR at Apple. In fact, more than half of them are doing sales, business development, operations, and even information technology.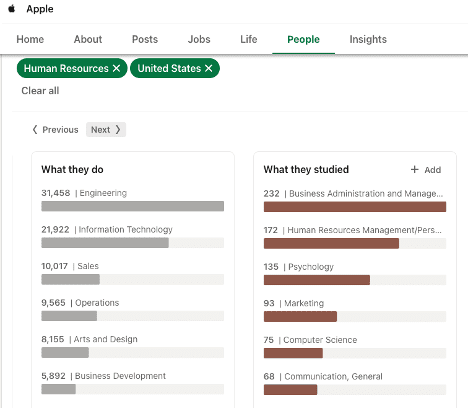 Screenshot via Apple Inc. LinkedIn company page
Use multiple filters across different panels
Let's use a different company example for this one: Deloitte. Let's say you're in the Greater New York City area; you can easily find local Deloitte finance, accounting, or consulting employees by applying the one location filter with these three job function filters for a broader understanding of your potential career paths within a singular company if you have your heart set on it.
Find the members behind the numbers
Last but certainly not least, once you easily drill down number of employees based on your criteria, check these employees' member profiles on LinkedIn. Instead of just knowing high-level statistics, you can actually learn who these employees in your dream companies are. If possible, connect with them on LinkedIn and learn from their career trajectories. For instance, there are 18 Apple UK employees on LinkedIn who graduated from the University of Westminster.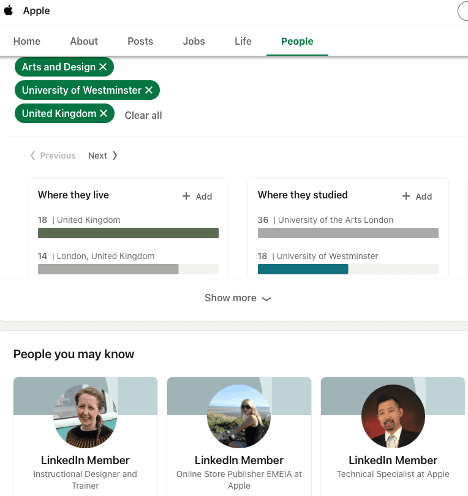 Screenshot via Apple Inc. LinkedIn company page
Related: Networking With Alumni From Your School
LinkedIn is a powerful and useful data tool you should be taking advantage of if your academic journey is career driven—and to some extent, it should be. After all, why attend college if not to set you up for career success later? If you conduct some of these searches to find great careers, schools, and alumni you're interested in, be bold and send an invitation with some notes indicating that you're doing college research and would like to learn more from their academic and career journey. Don't be afraid to reach out, and good luck with your search!
Start connecting and building your network by following CollegeXpress on LinkedIn to join our community and get daily updates with great content.