For many students, moving a few hundred miles away from home can be daunting enough. It's difficult to even imagine that others willingly venture thousands of miles away for several months at a time to study abroad. Not only can the distance be disheartening, but the idea of immersing themselves into a completely unknown culture, likely filled with a new language, cuisine, and atmosphere, is enough to keep many students far away from foreign experiences.
Although choosing to study abroad can pose many risks and cause many fears, it is a decision that can immensely impact your overall college experience and ultimately your entire outlook on the world around you. Deciding to study abroad is a life-changing choice made by millions of students every year. It results in a different experience for each individual, but overall the benefits are enough to make any skeptical student rethink if the homesickness is really worth it.
Related: All the Study Abroad Advice You'll Ever Need
Here are 10 reasons why every student should consider studying abroad at some point during their college career.
1. Gain independence
Starting out on your own at a college far away from home is a pretty good test of independence itself, but you can often find comfort in at least staying in the same country as your family. However, choosing to study abroad in a foreign country can prove to be a huge test of your independence as you tackle living on your own in a culture that is far from familiar. By taking a plunge headfirst into newfound independence, you may find that it's not nearly as bad as you expected.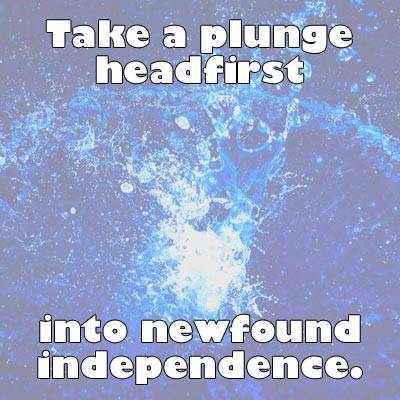 2. Round out your résumé
Crediting a semester abroad on any future school or job application is a unique quality that's highly appealing to many admission officers and companies. A student who has studied abroad is clearly not afraid to take a chance and is presumably well rounded and worldly in general. As far as interviews go, talking about an interesting experience or something significant that you gained from spending time abroad is a distinctive aspect that can easily set you apart from other applicants.
3. Available solutions for expenses
Many students automatically rule out study abroad programs because they believe they're too costly. But just like college itself, there are many options available for students on a budget who still wish to study abroad. Aside from scholarships and financial aid, there are many work or volunteer study abroad programs that pay for your schooling in exchange for your contribution. Set up an appointment with an advisor at your school and see just how affordable a study abroad program can be for you!
4. Get to know yourself better
Figuring out how you adjust to a drastically new environment is a great way to simply get to know yourself a bit better. You may find that some things you love about home aren't nearly as great as some of the new experiences you've come to love while abroad. This is something that can simply open your eyes to what you like and what you don't like, as well as how you work and learn best in specific environments. While studying abroad you will encounter a diverse palate of opportunities that can help you learn things about yourself—things you may have never realized back home.
5. New culture, new perspective
Being able to step outside of the familiarity of your everyday life and explore an entirely new environment and culture is an experience that can drastically alter the way you see the world as a whole. Getting to experience firsthand certain customs, values, and lifestyles so different from your own can leave you with a fresh new perspective and take on how others see the world around them and choose to live their lives. Returning from time spent studying abroad with a brand-new outlook can possibly even change how you choose to tackle the remainder of your college experience.
6. Real-life exposure to a new language
If you're looking to learn a new language, there is no better way to do so than by using it in real-life scenarios. Whether you have to order a meal, ask for directions, or have a conversation with a professor, being exposed to the more casual and everyday aspects of a language can help you comprehend it much easier. There's a significant difference in how easily someone can pick up a language when their only real exposure to it involves an outdated textbook. Studying abroad gives you the chance to put your foreign language skills to use as well as continue to develop new ones.
7. Different educational opportunities
There are many different methods to education, some of which are utilized across the globe and others you may have never heard before. Exposing yourself to a variety of diverse learning styles is a great way to figure out what exactly works best for you as a student. The way a foreign professor chooses to teach a class could open your eyes to a new style of learning that you likely would have never experienced back home. Getting to experiment with these various methods of education and learning can ultimately aid in altering your entire outlook on the learning experience as well as college in general.
Related: Find colleges with study abroad programs
8. Immerse yourself in history
Learning history from the perspective of a dusty old textbook can get pretty boring pretty quickly. It's hard to be able to fully appreciate the beauty of a piece of the past when you're just reading about it from a secondary source. Studying abroad gives you the chance to actually place yourself in history and to likely glean a much better understanding from it. Most foreign countries are home to many historical monuments, which can range from ancient churches, government buildings, or local museums filled with various artifacts. Many of these places can serve as a supplement to what you're actually learning in class and ultimately help you understand the importance of the topic.
9. Potential for new relationships
Instead of strictly limiting yourself to the people you meet in classes, at the library, or around your dorm, studying abroad gives you the opportunity to meet and bond with fellow students not only from a specific country, but also from all around the world. You never know who you may end up connecting with and ultimately what bonds could lead to incredible friendships. Spending a semester in a foreign country can broaden your horizons, both socially and academically, and lead to many new possibilities that you would have never before expected.
10. The overall experience
The knowledge and memories you gain from spending a significant amount of time in another country will likely manifest into a story that can be told for years to come. Possessing such an experience can therefore greatly impact your entire perspective and potential outcome of your future. The people you meet, the places you go, and the information you learn while abroad all become something to hold onto and apply to different situations for many years to come.
Have you ever studied abroad? If so, what did you most enjoy about the experience? Let us know in the comments!