You received your acceptance letter. You're all signed up for your program. You're practically packed and ready to start this college thing. There's just one problem: you have to sign up for a roommate!
If your school allows you to pick your own roommate and you're scanning through your class's Facebook group, ZeeMee page, or another chat site for new students, searching for someone in your major to room with…maybe take a step back. Sometimes the best option for a roommate is someone outside your major. Here's why.
Related: How College Roommate Selection Really Works
You won't see them all the time
There's no guarantee you'll love or hate your roommate. But if you're living in a cramped dorm room with someone and seeing them in class all the time and spending time with them after class in the cafeteria or studying, chances are you'll get sick of them at some point (even if you're besties). And if you end up having issues as roommates, there's nowhere you can go to escape. At all. Even if you change rooms, they're in your classes. You're probably going to end up in at least one class together per semester, and more than that if you attend a small school. (You can't hide from anyone at a small school!)
However, if you room with someone who isn't in your major, you'll probably only see them when you go back to your room or run into each other on campus. Say you have a falling out (not a big one—you're just mad they never empty the trash bin like they promised) and you want to avoid them for a while: done. Sure, you have to sleep in the same room, but that's only for a small portion of your day.
Related: How to Deal With Roommate Issues
You might learn something new
Teamwork makes the dream work, and speaking from experience, it can be super helpful to have someone outside your major readily available to you. When you need some artwork for a project, and you're a world-class stick figure artist but your roommate is a Graphic Design major, that's a helpful connection right there. When you take a web design class and realize you're in over your head, you'll jump for joy when your tech-oriented roomie can help you understand HTML. When you're a Culinary Arts major and you need someone to taste test your final, give a shout to your Writing major roommate who just aced a food writing class. You get the point!
Everyone has different strengths, and sometimes you need to go outside your major to find the right ones. It's easier to do if you can just shout across your room or apartment than having to walk all the way down the hall to find some help.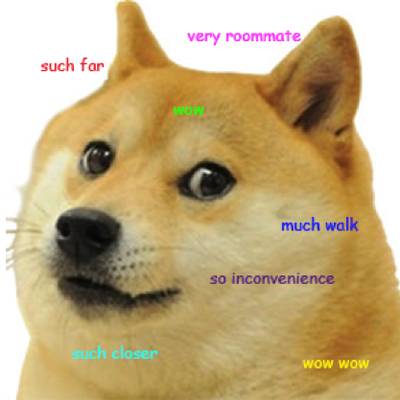 Related: Strangers or Squad? How to Live With Your College Roommate
It'll get you out of your comfort zone
You're nervous about going to college (everyone is!), so you may want to surround yourself with people who have similar interests, which is why you want to live with someone in your major. You want to be comfortable before you think about branching out to people who are so vastly different. But just because you share a major doesn't mean you share the same interests. Don't pigeonhole yourself (or your peers) like that. Instead, burst out of your comfort bubble and try to find someone who likes the same music or TV shows instead. Besides, you'll have plenty of time to make friends within your major through classes and group projects!
Who are you living with next year? Tweet us @CollegeXpress about how much you love your roomie!