Wherever you are in your college journey and the economic spectrum, budgeting skills and financial responsibility will influence the opportunities you have throughout your life. If you don't have a budget yet and you want to start one—or if you want to make sure the budget you have is in good shape—this article is the place to start. We've created a basic budget spreadsheet just for students. Here's how to use it, plus ways to make budgeting easier.
Figure out where all your money is coming from
All budgets depend on knowing exactly how much money you have to work with. So make a list of all of your sources of income, such as:
Part-time jobs
Allowance/spending money from your family
Work-study
Scholarships and grants (that aren't going straight to your tuition, room, and board expenses)
Existing savings (such as savings left over from high school)
Other recurring sources of income
As a college student, you'll likely need to coordinate with your family as you make your budget, especially if they're directly providing you with spending money. If that's the case, you can show how responsible you are by coming up with a schedule or system for exchanging that money. For example, you could suggest having your parents deposit $75 into a shared bank account on the first and 15th of every month, and you could plan your budget around that schedule.
Related: 7 Helpful Money-Saving Habits College Students Should Learn
Figure out where all your money is going
You probably don't have a lot of recurring bills as a college student, but you might be responsible for your monthly cell phone bill, car payment, car insurance, and/or rent if you live off campus. These are your fixed/recurring expenses, and the first step in creating your budget is to list them all out.
But those fixed expenses are just the tip of the iceberg. You should also track at least a month's worth of spending to see where your pocket money is going (more flexible expenses). You should keep receipts and review your debit and/or credit card statements, if you have them. (Pro tips: although many people just view their purchases online these days, another merit to having a physical receipt is that there are often discounts or special deals printed on the bottom! In addition, if you are involved in any activity where you will need to get reimbursed for a particular purchase, many organizations will only allow a paper receipt instead of just a digital snapshot of your purchases.)
As you gather all your spending info, write it down or enter it in a spreadsheet (like the one below). You can use any budget timeframe you want—a week, month, or semester—just make sure you're consistent. Some common budget categories for college students include the following:
Fixed/recurring expenses
Cell phone bill
Car payment
Car insurance
Health insurance (if you're not on your parents' plan)
Transportation (things like student bus passes, gas for an on-campus car, or bike maintenance)
Student activity fees
Rent (if you live off campus)
Savings (more on that in a second!)
Flexible expenses
Food (groceries and meals out)
Books
Clothes
Entertainment/going out
Miscellaneous/emergency money
Related: How to Figure Out Your College Costs
Create your budget and do the math
Once you know where your money is coming from and where it's going, you need to compare your expenses to your income to make sure they balance out. If your expenses exceed your income, you've got yourself a problem. With a little tweaking and thriftiness, you may be able to bring down your expenses. Or you may need to seek additional scholarships, financial aid, and forms of income to make up the difference. On the other hand, if your income exceeds your expenses, you're doing great! It's usually a good idea to put that extra money straight into your savings account. (Try to resist the urge to buy a bright new pair of Adidas All Stars…)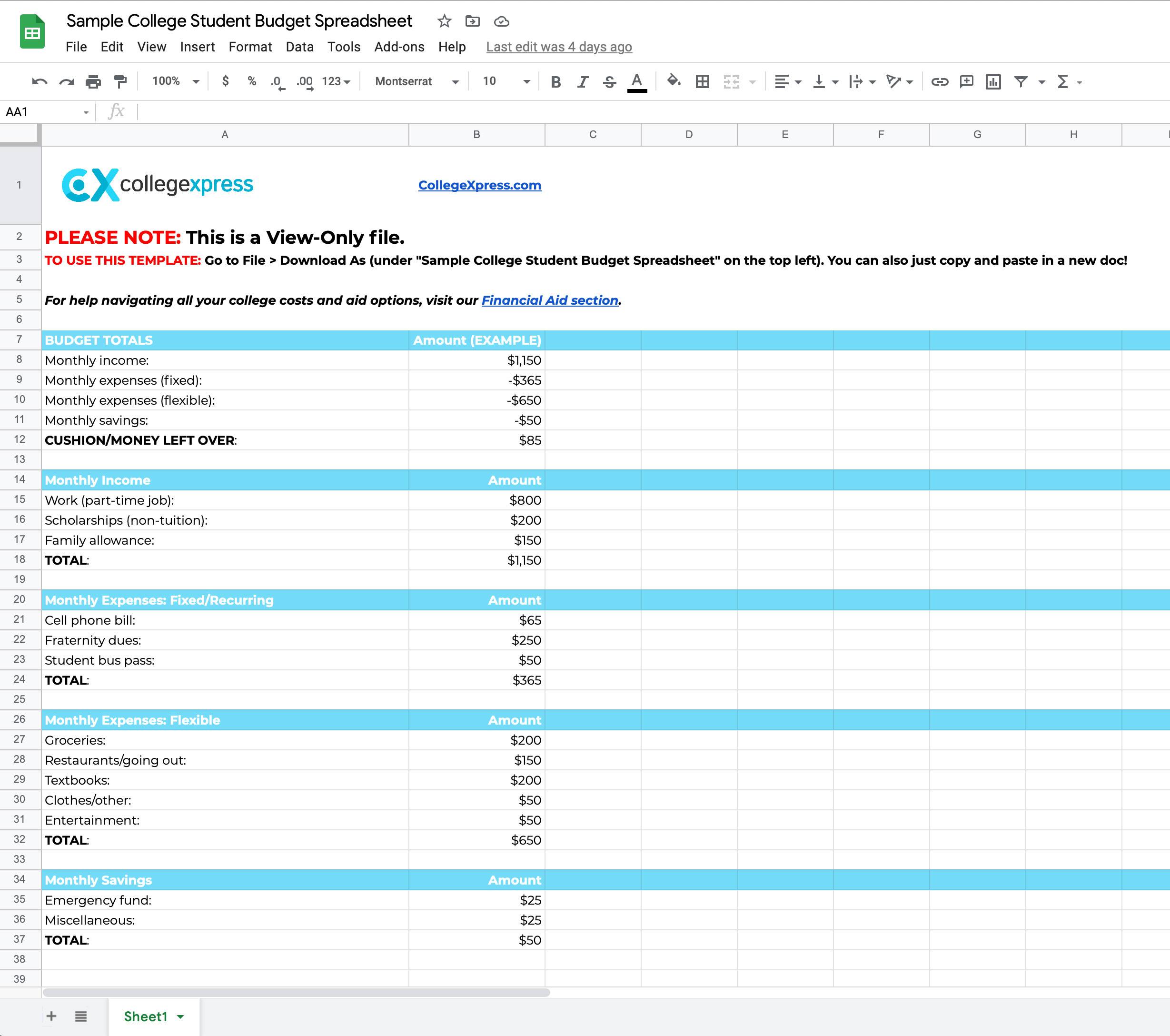 You can use a simple budget spreadsheet template (like the one above) to do this or any number of budgeting apps. One that I like is Mint, which is free to use online or on your phone. The site allows you to set alerts to stay on top of bills and gives you a visual representation of your spending habits. There are tons of free budgeting apps out there, but a few more good ones for students include Toshl, Goodbudget, and Daily Budget Original (iOS only).
Other than the many budgeting apps out there, it's wise to check with your bank to see if they have an app of their own. On my personal banking app, I am able to instantly deposit checks by taking a picture of it, check up on how much money I have, and transfer funds in between my checking and saving accounts. If your bank isn't local (especially if you traveled far from home for college), having an app is especially useful, since you won't be able to physically walk into the bank to take care of things. Whatever you do, remember that creating your budget is just the first step; it's important to manage your spending so you stick to it.
Set aside some savings
When you don't make a lot of money to begin with, it can be hard to imagine setting some aside for savings. But adding a line to your college budget for savings is so, so important! You can save for big-ticket expenses down the road, like a nice spring break trip, buying a car, or getting furniture for your first apartment. And it's critical to have an emergency fund, just in case you get sick or something else unexpected happens. Finally, saving your money while you're in college is just an overall good idea, since you're developing the financial habits you'll likely use for the rest of your life. (Your future self will thank you!)
Just like you set a budget for spending, you should also set a budget for how much you would like to save. Consistent saving is a huge principle that many financial advisors say can be more successful than constantly investing in the ever-changing global market. Set a goal of committing to saving a percent of your monthly paycheck, and over time it will allow you to get in the habit of always putting something away. I personally put at least 10% of my paycheck into my savings. It may not be a lot, considering I am only a college student making minimum wage, but every little bit counts.
Make budgeting easier on yourself
The last basic college budgeting tip is to get rid of the temptation to spend money whenever possible. If your weakness is ordering stuff online, it may be wise to use a site blocker during periods you know you shouldn't be spending money. Or if you're constantly going out with friends, you can be upfront about your budget and suggest cheaper or free events. When you do go out, bring only a set amount of cash to spend instead of a credit card to limit your spending.
Related: The Best Budget Templates for Students to Master Money Management
Budgeting can be daunting for students, but learning how to manage your money is a big and fairly important part of college life. Once you get the hang of it, you'll feel less stressed about money now and can set yourself up for financial freedom throughout your life.
Scholarships are the best way to bring down your college costs! Search for over $7 billion in opportunities with our Scholarship Search tool.