You're going to need all four years. Trust.
Fact: Boston is one of the nation's top college destinations. (And as an Emerson College grad, it's certainly #1 in my heart.) More than 250,000 students flock to 50+ schools in and around the city each year. Not surprisingly, Boston is also super student-friendly, with tons of things for you to see and do. Use this guide so you don't miss out.
PS: Most of the stuff on this list is free or cheap, especially with a student ID. Here are the categories covered:
Nightlife
The great outdoors
Holidays
Food
Sports
Theater and film
Music
Museums and culture
Touristy stuff
Special thanks to all of the Boston students and alumni who shared their suggestions! And if you think I missed anything, you gotta let me know in the comments.
Nightlife
An artsy partial shot of Mary Ann's
The great outdoors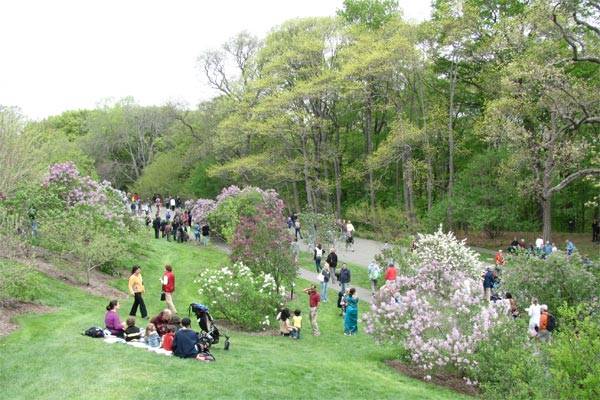 Lilac Sunday at the Arnold Arboretum
Brave the elements with your BFFs and go for a walk during a blizzard—because there will be a blizzard during your time in Boston.
Walk or bike through the Emerald Necklace to see how it got its name.
Stroll through the charming yet luxurious brownstones in Beacon Hill and the South End. Try to guess the property values.
Grab your fixie and head down the Southwest Corridor bike path.
Breathe in Lilac Sunday at The Arnold Arboretum.
Actually, just go to The Arnold Arboretum, period.
Have your mind blown by the oasis in the middle of the city at the Boston Nature Center.
Walk through Boston Common at night. But not past midnight because safety.
Have a beach day in Nahant or Revere.
Camp on the Harbor Islands.
Picnic on the Esplanade. Bonus points if it's the first nice spring day and only 50 degrees outside.
Visit the giant reflecting pool at Christian Science Center. Pro tip: it's better at night.
Enjoy the peace and quiet of Mount Auburn Cemetery. Everyone else there certainly is.
Loop around Jamaica Pond.
Climb Quincy Quarries.
Impress your friends—or your date—by showing them Cambridge's "secret" rooftop garden.
Count the smoots on the Mass. Ave. Bridge.
Walk from one end of the city to the other. For reals, Boston is smaller and more walkable than you think.
Do your shopping outdoors too by hitting up the South End Open Market @SoWa.
Holidays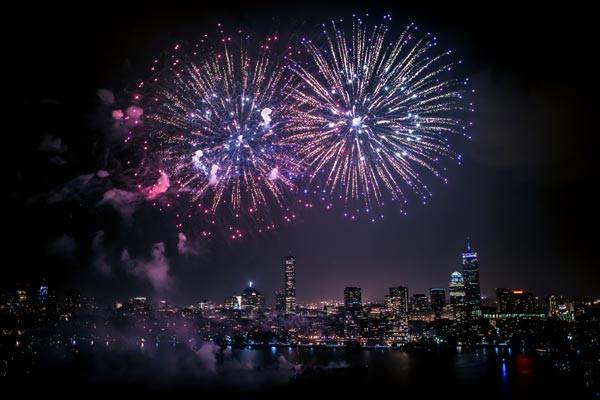 Fireworks over the Charles River
Abandon your preconceived notions of "personal space" and do Salem on Halloween.
Also for H'ween: go Trick-or-Treating on Beacon Hill. Because you're never too old for free full-sized candy bars.
Go to the St. Patrick's Day Parade in Southie, where everyone's Irish for the day.
Use your time as a Thanksgiving orphan to volunteer. See: Greater Boston Food Bank, Rosie's Place, Pine Street Inn. Register early because holiday volunteer slots fill up fast.
Check out the annual Christmas tree lighting on the Common. "Cold, but a good time."
Watch the 4th of July Fireworks from the Esplanade. Make sure you go in the morning with your crew to claim a spot. Spend the day snacking and taking turns to watch the blanket while someone finds a bathroom.
Observe the spectacle that is move-in day, September 1. Yowza. (This is only if you are already safely moved into your apartment or dorm and have no need to leave for at least 36 hours.)
Food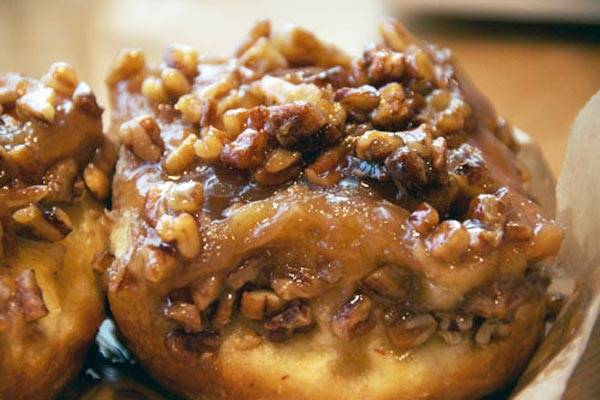 Flour Bakery and Cafe's famous sticky buns; image via serious eats
Eat a marinara-soaked meal in the North End, ending with a cannoli. "MARIA'S not Mike's."
Speaking of the North End, go to 24-7 bakery Bova's at an absurd time of night. "Try not to eat all of the things."
Wait your turn for dim sum in China Town. See: Hei La Moon, China Pearl, Winsor Dim Sum Café.
All the coffee shops. See: Thinking Cup, 1369 Coffee House, Pavement Coffeehouse.
Tour/sample a brewery. Sam Adams ain't the only game in town anymore. See: Night Shift, Trillium, Harpoon.
Cash in your birthday dinner somewhere worthy of the occasion (and price tag). Seriously, there are so many amazing, fancy restaurants in Boston.
Cook fresh from one of Boston's many farmer's markets.
Eat yummy Ethiopian food, with your hands of course, at Addis Red Sea.
Grab a cupcake from the South End Buttery.
While we're talking baked goods, go to any one of Flour Bakery's locations. Order literally anything on the menu. Be happy.
Coordinate a DIY chocolate tour. See: L.A. Burdick's, Taza, Beacon Hill Chocolates.
Get a really late dinner (or would it be an early breakfast?) at 3:00 a.m. at South Street Diner.
Schlepp out to Sullivan's on Castle Island for a hot dog or lobster roll.
Another food pilgrimage: get a sandwich from Moody Street Deli in nearby Waltham.
Have a piece of Boston cream pie where it was invented (so they say): the Omni Parker House.
Even if you're not a seafood person, eat a bowl of chowder. Er, chowdah. Whatevah.
Sports
Fenway Park, Green Monster and all
Go to a Red Sox game, of course. Or at least take a tour of Fenway.
Sail or kayak on the Charles. But resist the urge to go swimming if you're hot, because it's not worth the tetanus.
Even if you don't go to BC, BU, Harvard, or Northeastern, cheer on your favorite team in the Bean Pot.
Stake out a spot anywhere along those glorious 26.2 miles and cheer on the Boston Marathon runners.
Head to the Charles for the, uh, Head of the Charles Regatta.
Theater and film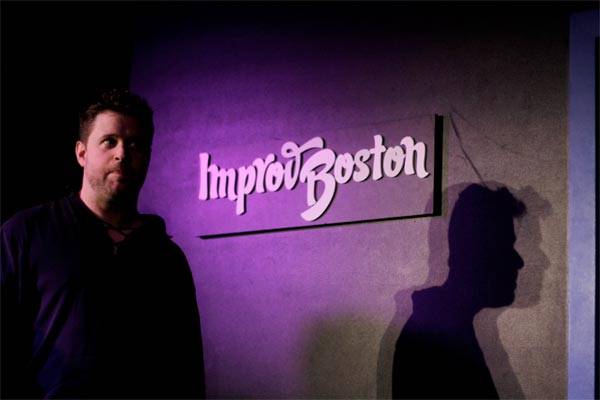 A presumably funny dude on Improv Boston's stage
Music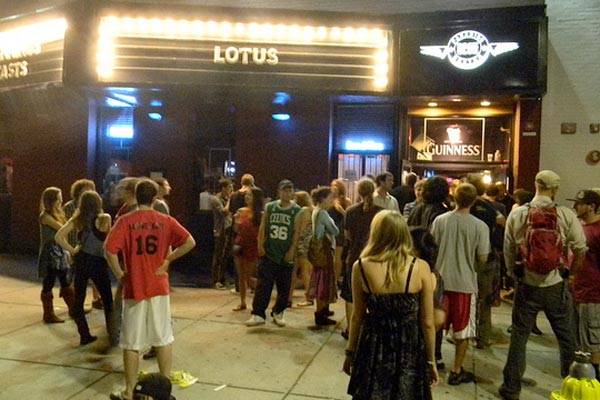 Outside the Paradise Rock Club
Museums and culture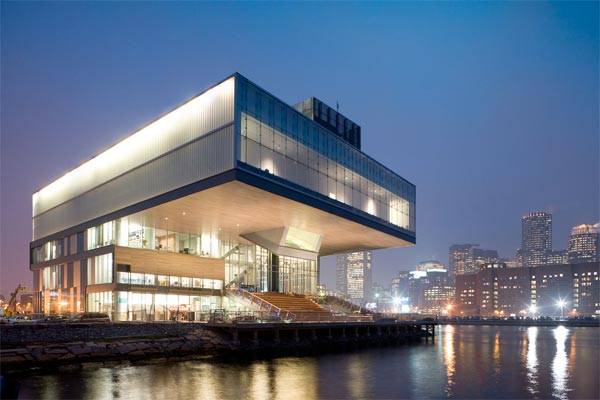 Institue of Contemporary Art being all chic and...contemporary
Go to as many museums as you can! Most are free with your student ID. Calling out a few in particular, because they deserve it...
Museum of Fine Arts, the bare minimum.
Museum of Science, with Laser Floyd at the Omni Theater.
Institute of Contemporary Art, for First Fridays.
Isabella Stewart Gardener Museum, unforgettable art with a side of criminal intrigue.
Boston Children's Museum, because why not.
Get up close and personal with the planets at the Harvard-Smithsonian Center for Astrophysics.
Trek out to Columbia Point to visit JFK's Presidential Library and Museum (unless you go to UMass Boston, in which case you're already there).
Attend a free seminar or lecture. Lots of places, including Harvard and the Museum of Fine Arts, offer them. "I swear this is not boring."
Walk the Freedom Trail, which includes a lot of neat historical stuff.
Get—and use—a Boston Public Library card. College addresses count! And don't forget to visit the library's courtyard while you're there.
Whisper in the Mapparium.
Go back in time with a visit to a nifty historical property.
Find a spot along the river for the Boston Dragon Boat Festival.
Touristy stuff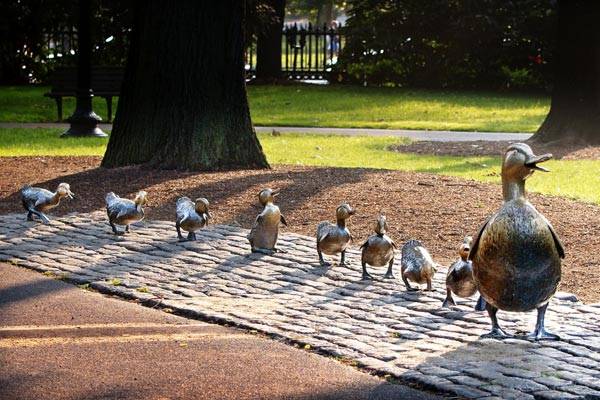 The Make Way for Ducklings statue, adorable as ever
Spend an overpriced, overcrowded night barhopping at Faneuil Hall.
Take your family on a Duck Tour. Unless they're locals, they're gonna love it.
Visit the Make Way for Ducklings statues in Boston Garden.
Go behind the not-so-secret secret door at Bodega. Remember you're a poor college student who can't afford anything inside.
Get your Good Will Hunting on in Harvard Yard. (But don't even think the phrase "pahk the cah...")
And watch the Hasty Pudding parade while you're there.
Get—er, split—dessert on a weeknight at Top of the Hub. Why pay just for the view when you can enjoy it with warm cookies in your mouth?
Check out the New England Aquarium. Stopping by the free harbor seal tank outside the museum counts.
Go ice-skating on the Frog Pond.
Window-shop on Newbury Street.
And here's #100: make every moment you're a student in this gloriously feisty "college town" count.
PS: NEVER call it "Beantown."