As this pandemic continues and schools remain closed, students are finding it hard to stay calm; questions continue to swirl around them about the future. With responses like "it depends" and "we should know more by the summer," it's clear everyone is facing a lot of unknowns. Uncertainty brings discomfort, and it's only natural to keep searching for answers. CollegeXpress recently sent out a survey to high school and college students to see if they had any questions for teachers, professors, or counselors about this uncertain situation. Below are their inquiries. I've done my best to answer them accurately with the information that's currently available, but remember, this is an evolving situation. The most positive thing you can do is prepare for change and get ready to pivot!
How is graduation going to work? A lot of students still haven't heard any news
Both high school and college seniors have been asking about graduation ceremonies. If you haven't heard the plan yet, it's not because your school wants to keep you in the dark. Rather, they're gathering information to make the best decision they can—hopefully avoiding having to backpedal and change the plan if the situation evolves.
Many schools have already decided to hold virtual graduations for now, while promising an in-person ceremony as soon as it's safe. Some colleges have announced graduation will likely be in the fall, while others have pushed back in-person graduations until next May or June. And various schools have created some unique and clever plans to support and honor their students for the time being:
Texas Motor Speedway is allowing 23 local high schools to have a live but hands-free diploma ceremony.
Several high schools around the country will hold "drive-through" graduations, where families will line up alphabetically in their cars. Students will receive their diplomas, one by one, while their image is broadcasted on a live screen.
Many sign companies have been busy creating yard signs for families to celebrate both high school and college graduates. I ordered one for my own daughter's virtual graduation from the University of Pennsylvania below.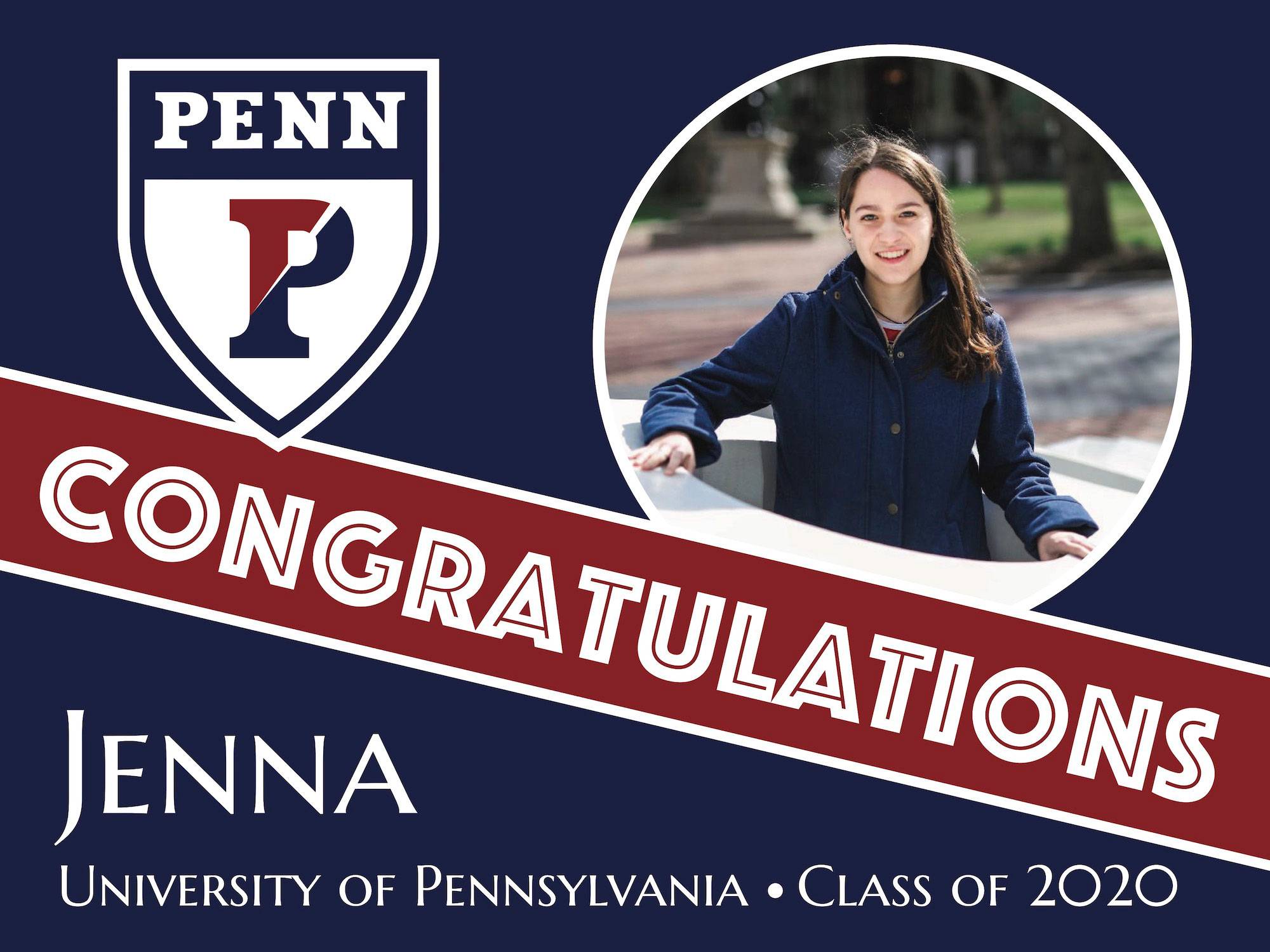 Related: Words of Encouragement for the Class of 2020
Is there still hope for securing an on-campus internship next fall?
College students often pursue internships; they provide valuable experience and look great on your résumé. Whether or not internships will be available depends on what happens next fall and what type of internship you're seeking. Nobody knows yet which campuses will be open and whether there will be social distancing rules to follow if they are.
When the semester starts, reach out to your career center to determine which internships are available. In the meantime, it can't hurt to contact your previous internship boss, or if you're an incoming freshman, the director of the internships that interest you. Ask if you can complete any virtual work for them over the summer; you may be able to get a head start and show them what you can accomplish! Also, if you're eligible for the federal work-study program, your college may continue to pay you for your scheduled hours or arrange for you to work remotely. Contact your financial aid office for more details.
What are the chances that college students will have to start next semester online?
Everyone's hoping this won't be necessary. However, we have to consider that it may happen. Both K–12 schools and higher education institutions have been making contingency plans for the various options. A recent Inside Higher Ed article detailed 15 different scenarios that college administrators are considering, and while it can't give definitive answers, it can provide some insight to possible outcomes for your fall semester. There's also a running list from The Chronicle of Higher Education of individual college plans for the fall that's being updated regularly. This can provide more insight into the college you're attending, planning to attend, or have interest in.
Quality of online education
Since the pandemic was an unanticipated emergency, college professors had little time to prepare as they hastily moved their classes online. Traditional online classes are typically well thought out and developed solely as online courses. If classes in the fall have to be remote, they will most likely be a better, higher-quality experience.
Decisions already being made about the fall semester
Many colleges have indicated they'll be making their decisions on a specific date somewhere between mid-June and early July. Several colleges have pledged to be back on campus in the fall, including the public universities in Alabama, North Carolina, and North Dakota as well as specific institutions like Purdue University and Texas Tech. Others have adopted a more cautious approach stating that they'll do everything possible to return students to campus, but they have to consider safety first. For example, earlier this week, Rice University announced their plans for the fall, and it's clear they'll try to account for the multitude of exceptions that will have to be put into place: students and staff with compromised health, international students who can't secure their visa on time, etc.
Related: Counselor Q&A: How to Be Smart When Planning for College During the Pandemic
Will I receive full credit for all my classes, or will there be credits deducted because everything is online?
Currently, I haven't heard of any college or university that won't award full credit for the courses students are taking or will be taking online, even though the curriculum had to be rapidly changed to an online version. Lab classes and research opportunities don't offer the same type of experience as they do in person, but colleges have done their best with such short notice. I believe all credits will be awarded, especially since you still paid full tuition! If courses continue to be held online, schools and professors will have had months to plan how to effectively translate a typical in-person class to distance learning. So it's expected that they'll be equivalent to full-credit classes.
I'm in favor of online classes regardless of whether there is a pandemic; do you think professors will use this time to get comfortable with teaching online?
By necessity, professors did become more familiar with online teaching at the end of the spring 2020 semester. It would be interesting to know what professors who had never taught online before think of remote learning. Do they feel it can be as effective as in-class learning?

Of course, there have been online classes offered at numerous universities for many years. If you've determined that you prefer online classes, you should investigate how your college handles them. With so many schools offering a multitude of remote learning classes and full online degrees, you may want to consider switching to an online program regardless of how classes are conducted for traditional programs in the future.
Related: 6 Tips to Transition to Online Learning
It's been uplifting to see how flexible schools plan to be in addressing the many issues that have popped up and will continue to arise. We're seeing this willingness to adapt from almost all colleges, which is reassuring for many worried students. We hope this has helped ease some of your concerns, and thank you for asking these important questions!
Want answers to your questions about how the pandemic will affect higher education and the college admission process? Send them to us using our contact form with the subject "Ask the CollegeXpress Team" and we'll pass them along to our experts!