If you're reading this, you probably either want to go to college or are already there. But…why? Why go to college? What's most important to you about the college experience? It's okay, you don't have to answer right now—these students have some ideas for you. (New student stories added in 2017!)
We asked about almost 200 students, coming from both high school and college, to share what is most important to them in their college search and campus experience. The graph below shows their answers (most students listed multiple things, which is why it doesn't add up!). Plus, we included a bunch of their specific reasons below.
Overall, students were more worried about paying for college than anything else (no big surprise there), but they also said higher education was important for age-old reasons like expanding their world-view by meeting new people, challenging themselves, and just learning all they could. But this was balanced with practical stuff like gaining real-world skills and experience, along with networking and career support. Only one person said getting good grades was the most important part of going to college.
How do your college priorities stack up? What's most important to you?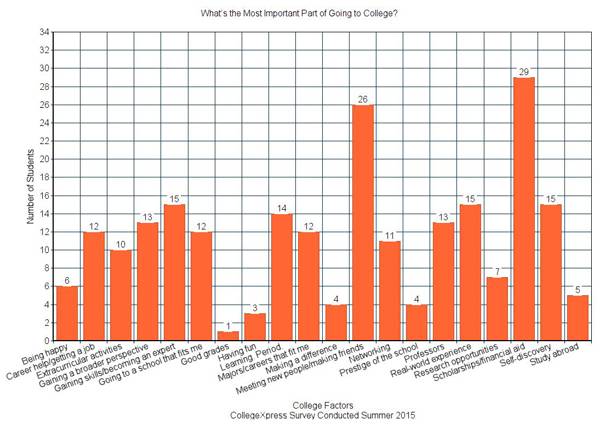 What's most important about college to these students?
"The most important part of college for me would be accomplishing research projects or getting real-world experience before I join the workforce. For example, if I pursue biomedical engineering as I plan to do, I would want to perform some kind of research project to get some work published before I have to apply for jobs in the industry."
"Learning, and learning a lot. I'm really interested in foreign languages, in literature, in history, and in politics. In addition, I want to graduate without any debt, as well, so maintaining my scholarships is extremely important to me, as well."
"In short, learning is the most important to me in my college journey, as well as in life."
"In my college experience, it is very important to me that I meet many new people but also experience a lot of new things as a whole. College, for me, is about experiencing as many new things as possible and finding yourself as well as getting a killer education."
"In my college journey, I wish to accomplish three things: one, meet many new people that I can have fun with and support through my college years. Two, I want to experience as many new things as I can while I'm here. Three, I want to learn as much as I can from the professors so I can become one of the best in my field."
"I think being an expert in my field is the most important part of my college journey. I want to make sure I'm prepared for whatever my next step is after getting my undergraduate degree. Meeting lots of new people is also really important to me, largely because I went to the same school for 12 years and hung out with the same class of 118 people those years; once I graduated, I was more than ready to make some new friends!"

"Being an expert in my field is crucially important to me because I want to become proficient at what I do. I want to be able to implement my knowledge in order to use it to my advantage during work or even day-to-day life. Working closely alongside professors and even students is also essential to me. How on earth am I going to improve unless I can absorb knowledge from others around me?"
"I intend to become heavily involved in my field and make a name for myself through my college's many journalism outlets. I also want to meet as many new people as possible to both build lifelong friendships and meet people who will help me grow in my career."
"To me, the most important thing in my college journey is getting the degree. I come from a family of people who did not attend college and my biggest goal is to graduate from college."
"I'm most excited to continue learning about a topic I care about. I was lucky to be able to attend a high school where I can focus on one of my interests, but since freshman year I've leaned away from the creative writing route, and I'm ready to move on to something more serious and professional. I hope to go to a college where I can be challenged but still meet people and have traveling opportunities."
"Scholarships and internships are very important to furthering my education because coming from a single parent housed, I need a lot of help with getting financial and professional assistance. I want to be a well-rounded professor someday with lots of professional connections in the world of academia. Experiencing new places and people by traveling abroad is also very important to me."
"Most importantly, I want my future college to provide me with opportunities beyond the classroom. I hope, of course, that my classes and professors ready me for life after graduation—but I also want to participate in internships and extracurricular activities that will aid me in the future."
"The most important things in my college journey include meeting lots of new people, expanding my world-view, and learning how to communicate my ideas to a wider audience."
"I simply want to find a career that I like and that I will be happy to work in and can support me financially in the future."

"I think I expected two things out of college: expanding my knowledge and creating meaningful relationships. I think besides learning more and more about my desired major or field, college is a time to explore everything, even random fields you've never even thought of exploring. I also expected college to be a great time with friends. Yes, you get to meet tons of new people and be constantly surrounded by acquaintances and comrades (especially if you dorm), but I also hope to meet the friends I'll keep for the rest of my life."
"On my college journey the most important things to me are being with experts in my field, meeting new people from all over the world, and finding the best program to fit my learning style."
"College represents a wealth of possible opportunities, and that is what I look forward to most. Whether it is the huge variety of extracurriculars, research work, or the new people on campus, college represents a place where anyone can find a niche and thrive. I am thrilled by the idea of carving my own path in the jungle of college, and I believe college will ultimately be a decisive factor in shaping who I am."
"A strong degree program with good technology, fun student environment, connections for future careers, honors programs, and generous scholarships are all important to me—but mostly the overall 'good fit.'"
"I'm looking forward to working closely with my professors in an undergraduate-focused environment. I think meeting new people and establishing lasting connections is an essential element of the college experience. In addition, I want to find a college that seeks to reveal the joy and fulfillment that comes with knowledge and learning, and choose a major that is meaningful and exciting to me."

"My main objective of the college journey is becoming 'an expert in my field.' Every course and extracurricular activity brings me a step closer to becoming an English teacher. The people I meet are an important aspect, because, as much as I love books, friends can teach you so much more. I want to be a teacher and write to help people. Anything else is secondary."
"Finding the college that is right for me. This will be achieved based on many different factors, including people, campus, cost, academics, and extracurriculars."
"Networking is the most important aspect of my college journey. This comes in many forms: getting to know professors, joining on-campus activities, internships, etc. Scholarships and academics are important to the 'where' factor of a college, but I want to make connections that will last a lifetime!"
"What is most important to me in my college journey is being debt free, knowing my professors, meeting new people, traveling when I can, and breaking barriers."
"In my college journey, I would like to find my passion for my major (cliché, I know, but oh so true); extracurriculars that will help me find a career rather than solely résumé fillers; meeting people/professors that inspire me; and, most importantly, why the sky is blue. Still don't fully understand that one."